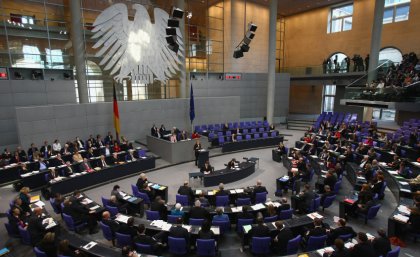 The President of the German Bundestag, Professor Norbert Lammert, will give a public address at The University of Queensland tonight.
UQ Provost and Senior Vice-President Professor Max Lu said it was the first visit of a Bundestag President to Australia.
"This visit builds on the already-strong relationship between UQ and Germany," Professor Lu said.  
"We value the opportunity to receive foreign leaders and elected representatives from other nations at our campuses, as they deepen and strengthen our bilateral relations considerably," Professor Lu said.
"To be able to welcome such a senior dignitary as Dr Lammert — second only to the President of the Federal Republic of Germany in terms of protocol — and other dignitaries from the Bundestag is an immense honour."
Professor Lammert's talk, titled Crises in Europe and the Middle East: German Positions and Parliamentary Responsibility, will provide an insight into Germany's role in international decision-making.
"As a leading economy in the European Union, Germany is an extremely important partner for Australia," Professor Lu said.
"Germany plays a key role in a wide range of economic and political issues, including meeting common challenges such as terrorism and the protection of human rights.
"Our shared values and political interests, and our growing international exchanges and collaborations, will continue to provide a sound basis for trustful cooperation between Australia and Germany. 
"UQ has close ties with German researchers and industry and we are looking to deepen and strengthen these relationships.
"We are fortunate that both Australia's current Ambassador to Germany, Mr David Ritchie AO, and his predecessor in the role, Mr Peter Tesch, are fine UQ alumni who have been very supportive of their alma mater,"he said.
Contact: Dr Jessica Gallagher, +61 7 3346 7869, 0435 961 173, j.gallagher@uq.edu.au