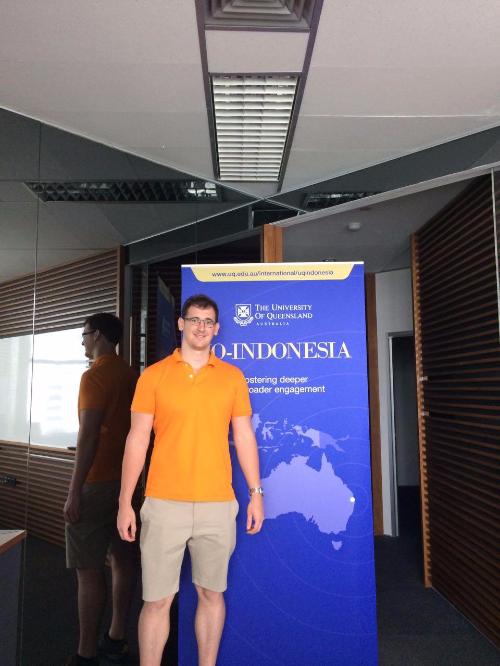 As a former national swimming champion and high-achieving student with an internship in a senator's office already under this belt, Alex Williams exemplifies the title of 'all-rounder'.
The University of Queensland Bachelor of Arts/Laws student will add another impressive achievement to his CV this year, having recently arrived in Indonesia to begin a semester abroad at Universitas Indonesia (UI) under the New Colombo Plan Scholarship Program.
The prestigious Australian Government initiative aims to lift knowledge of the Indo-Pacific by providing opportunities for Australian undergraduates to study and work in the region.
Alongside law lectures, Mr Williams said he will undertake internships at the Indonesian Corruption Eradication Commission and Judicial Commission, where UQ has well-established links.
"I plan to focus on comparative law projects that summarise and contrast the Australian and Indonesian law relating to corruption and judicial integrity," he said.
This is not the first time UQ has helped Mr Williams travel to Indonesia. As one of UQ's top first-year Indonesian language students, he received an Australian Government grant to undertake a program at the University of Nusa Cendana in the city of Kupang.
"This experience bolstered my confidence by exposing me to challenging situations which I had to resolve independently, such as language and cultural barriers, and pursuit by wild animals," he said.
In addition to his exchange at UI, Mr Williams will also participate in a New Colombo Plan Mobility Program short course through UQ's TC Beirne School of Law.
The course will see more than a dozen law students participate in activities with students from UI and the University of Gadjah Mada (UGM) in Yogyakarta, as well as officials from the Indonesian Corruption Eradication Commission and Judicial Commission.
UQ has a long-term strategic commitment to Indonesia; the relationship stretches back more than 50 years and encompasses 33 active agreements with 19 Indonesian partners.
UQ is the most globally engaged international university with Indonesia, with more co-publications with Indonesian institutions than any other organisation outside the country.*
The cooperation was solidified in 2014 with the opening on the UQ Indonesia Office, located in central Jakarta, adjacent to the Trade and Investment Queensland's (TIQ) ASEAN Office.
The UQ Indonesia Office has worked with local partners – including TIQ, the Indonesian Institute of Sciences, the Judicial Commission, Cardno Emerging Markets, and PT ANZ Bank Indonesia – to develop a series of internships for UQ undergraduate students, which are undertaken in tandem with courses at UI or UGM.
"The UQ Indonesia Office has been invaluable in helping me work through the accommodation and immigration processes. Though initially daunting, I have been guided by safe hands and cannot speak highly enough of those who have helped me," Mr Williams said.
"Although I have only been in Jakarta for two weeks, I have settled in and have been constantly occupied with social and professional events. I am incredibly excited about what the next six months have in store for me and am eager to dive into my studies and internships."
Mr Williams encouraged other students to take advantage of UQ's exchange programs, particularly in Indonesia, and said overseas learning experiences were key to developing the Asia literacy of Australian graduates.
"I see enormous potential in the relationship between Australia and Indonesia. By studying Indonesian law, I see myself as primed to take advantage of the inevitable growth in private and public sector opportunities," he said.
"I feel incredibly privileged to have been given opportunities to work with some of Indonesia's leading public institutions."
Although Mr Williams received New Colombo Plan funding, study and internship opportunities in Jakarta are available to all UQ students.
"I hope that, in the future, many more students will follow," he said.
UQ Global Engagement will open expressions for the 2018 round of the New Colombo Plan Scholarship program in March.
Media: Melanie Martin, 3346 0665, melanie.martin@uq.edu.au, or Ratu Sovi Arinta, +62 812 104 3682, sovi.arinta@uq.edu.au
*For the period 2012-2016, UQ had 262 co-publications with Indonesian institutions according to InCites™ (Document type: Article and Review). Dataset updated Jan 14, 2017. Includes Web of Science™ content indexed through Dec 2, 2016.
Also available in Indonesian | Juga tersedia dalam Bahasa Indonesia