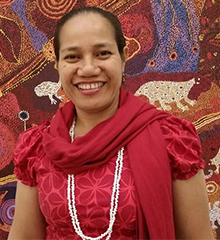 A University of Queensland TC Beirne School of Law PhD graduate has received a prestigious grant to work with UQ researchers on developing her thesis recommendations into practical guidelines for law reformers in the Pacific Islands.
Samoan-born Dr Lalotoa Mulitalo was one of three recipients of a Greg Urwin Award, a $25,000 joint government grant bestowed on exceptional Pacific Islander professionals, researchers and emerging leaders.
Recipients take on three-month placements with organisations that have the potential to drive positive development in the Pacific Islands.
Dr Mulitalo arrived at UQ last month to begin her placement at the School of Law, which will end in May.