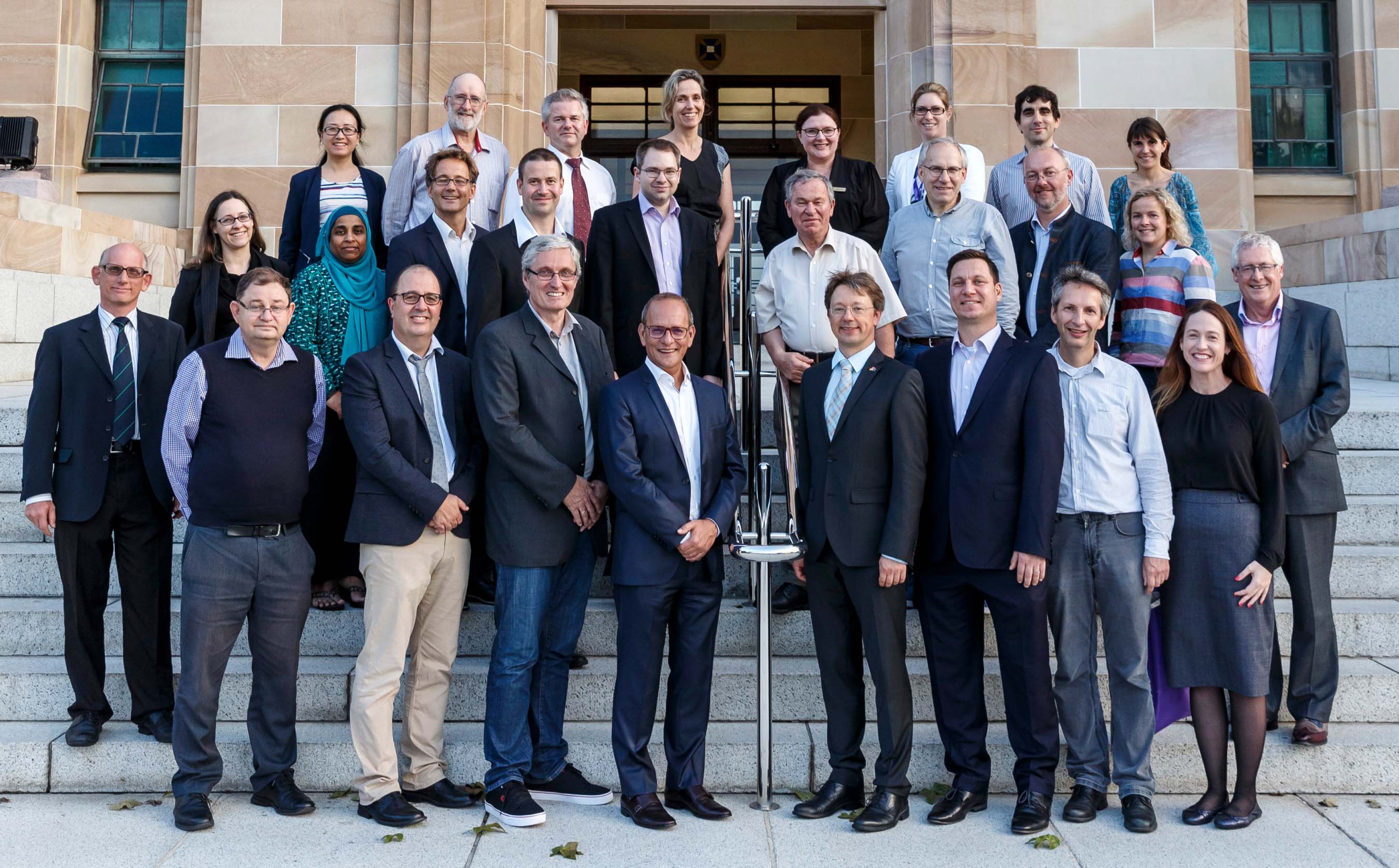 International academics, researchers, and government representatives recently met at The University of Queensland (UQ) to explore the role of biotechnology on future economies.
Organised by UQ in collaboration with the Technical University of Munich (TUM), the Symposium reflected growing global interest in achieving a sustainable bioeconomy, and explored measures and challenges identified by the Organisation for Economic Co-operation and Development (OECD) and the European Commission.
The Symposium expanded upon existing research initiatives, identified new opportunities for joint projects, and supported broad academic collaboration between UQ and TUM, particularly in the areas of healthy and safe foods, renewable resources, and bio-processes engineering. Tripartite collaboration with Brazil – a bio-product powerhouse – was also strengthened, with São Paulo State University Chief of Staff Professor Carlos Vergani saying the application of biotechnology will take global industries into the new energy landscape.
"We are living in a world that is experiencing a biotechnology revolution," he said.
"As the largest producer of sugar cane-based bio-products in the world – ethanol, biogas, and bio-plastics for example – achieving a sustainable and viable bioeconomy is most certainly on the agenda for Brazil. More broadly, however, research in this area will help define how global industries work towards a cleaner and greener future."
TUM Chair of Biogenic Resources and Honorary Professor at UQ, Professor Michael Rychlik, said biotechnology and biological strategies will also play a significant role in improving food security. 
"One of the most important environmental challenges facing the developing world is how to meet current food needs without undermining the ability of future generations to meet theirs. But the current state of agricultural technology will not suffice to meet the production challenges ahead," he said.
"In contemporary agriculture – which relies on fuel-powered tractors, chemical fertilizers, and pesticides – deploying a smart mix of farming techniques using genetic engineering of biotechnology offers a bright prospect of improving both yield and the nutritional quality of crops, while also reducing our environmental footprint."
The UQ-TUM partnership was formalised in 2010 and has since become UQ's most popular student exchange destination in Germany. To date, the collaboration has supported joint publications, staff mobility, student internships, laboratory placements, joint research projects, guest lectures, and a variety of workshops.
UQ President and Vice-Chancellor Professor Peter Høj will travel to Munich in June 2018 to help celebrate TUM's 150th anniversary, and to visit the University's new campus dedicated to biotechnology and sustainability. Dean of the Straubing Campus and Honorary UQ Professor, Dr Volker Sieber, said sharing knowledge and leveraging international expertise will be integral to Germany, Australia, and Brazil as they emerge as leaders in the global bioeconomy.
"Bavaria has a long history in terms of recognising the bioeconomy, it is observed at the highest levels politically, and the government continues to search for the best affiliates and partners around the world," Professor Sieber said.
"In UQ and UNESP, we have found committed partners who are ready and willing to find solutions to global challenges, such as ensuring healthy and safe foods, sustainable agriculture, and renewable resources and biomaterials for industry."
UQ speakers at the UQ-TUM Bioeconomy Symposium included:
The event program is available online.
For more information, contact Global Engagement.