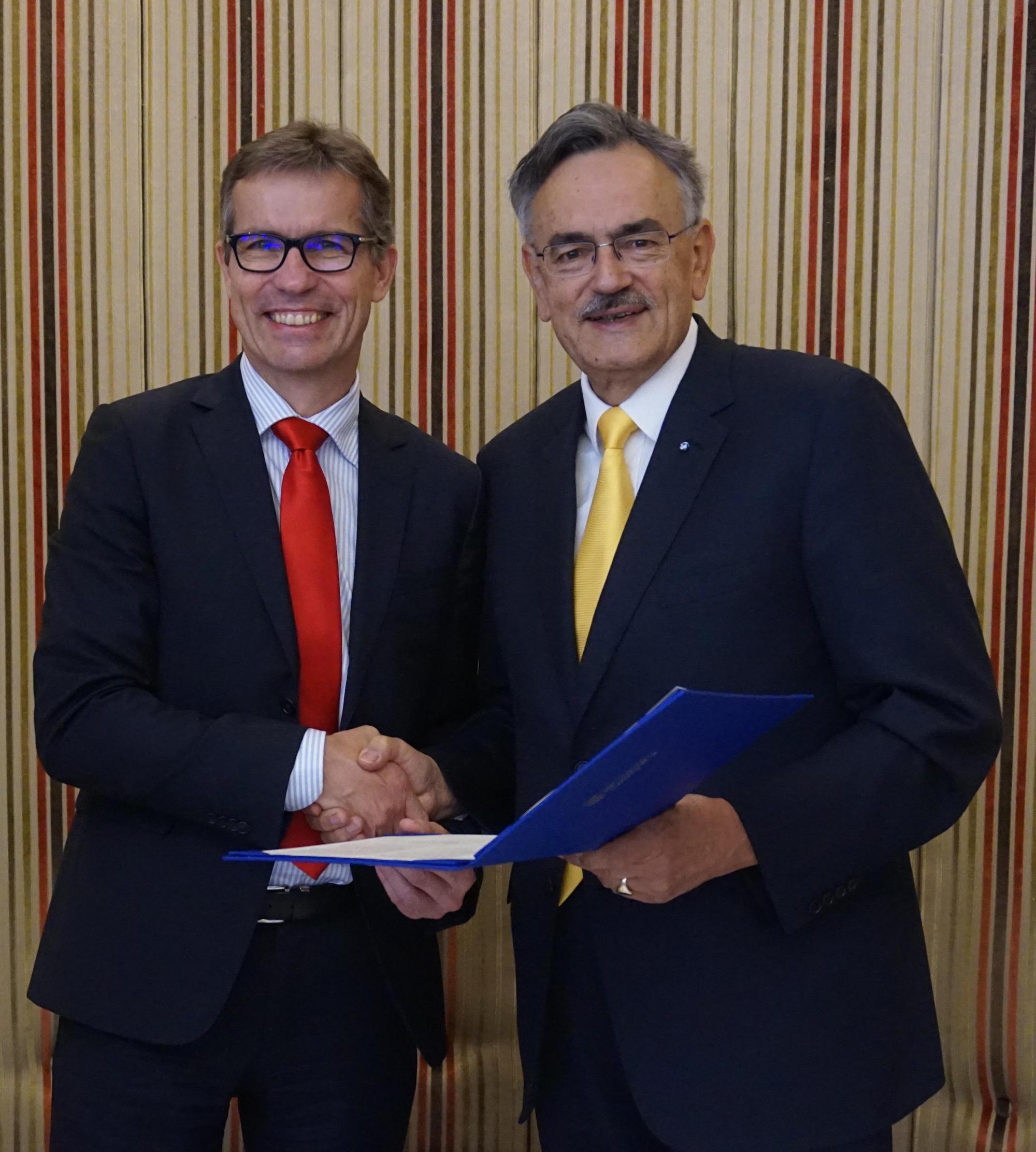 UQ is rapidly expanding collaboration with the Technical University of Munich (TUM), Germany and Sao Paulo State University (UNSEP), Brazil in biotechnology and its impact on future economies.
The three universities are founding members of the Global Bioeconomy Alliance – a new initiative to develop the production and use of biological resources to provide products, processes and services within the frame of a sustainable economic system.
TUM Chair of Chemistry of Biogenic Resources and Honorary UQ Professor Volker Sieber said sharing knowledge and leveraging international expertise will be integral to Australia, Germany, and Brazil as they emerge as leaders in the global bioeconomy.
"Bioeconomy is a global topic and can only be realised by combining agricultural, technical and social aspects of bio-based industry and society. Research in this area will help define how global industries work towards a cleaner and greener future," he said.
"All three partner countries are located in areas with different levels of implementation and face diverse challenges. Through collaborating with a growing network of researchers worldwide, the Alliance will develop holistic strategies to boost the global bioeconomy."
The Alliance grew out of last year's UQ-TUM Bioeconomy Symposium. Following the event, Professor Michael Rychlik was awarded a TUM Global Incentive Fund grant to advance trilateral collaborations. As a result, the first research symposium between UQ-TUM and UNESP was held this June in Bavaria. 
TUM Chair of Analytical Food Chemistry and Honorary Professor at UQ, Professor Michael Rychlik said biotechnology and biological strategies will also play a significant role in improving food security. 
"One of the most important environmental challenges facing the developing world is how to meet current food needs without undermining the ability of future generations to meet theirs. But the current state of agricultural technology will not suffice to meet the production challenges ahead," he said.
"In contemporary agriculture – which relies on fuel-powered tractors, chemical fertilizers, and pesticides – deploying a smart mix of farming techniques using genetic engineering of biotechnology offers a bright prospect of improving both yield and the nutritional quality of crops, while also reducing our environmental footprint."
UQ School of Chemistry and Molecular Biosciences Head of School Professor Paul Young said there is a lot UQ can learn from its international partners – and vice versa.
"We're here to learn from each other; to discuss how knowledge and investment can speed-up and scale-up the global bioeconomy. Business models are now placing resource efficiency and environmental sustainably at their core.
"We can do so much more than simply produce, use and throw away. Through the Global Bioeconomy Alliance, we can work together across Europe, Australia, and Latin America to explore the need for a new global economic paradigm as a basis for a sustainable future."
Media: Senior International Strategist, Global Strategy and Partnerships, UQ Global Engagement and Entrepreneurship, Ms Sally Wilson: +61 7 3365 4746 or sally.wilson@uq.edu.au.