Working with women in Madagascar in the gemstone supply chain: challenges, opportunities and knowledge building.
Coloured gemstones are in demand, with supply chains and global production networks for coloured gemstones worth USD 10–15 billion. Madagascar is one of the world's largest producers of fine sapphires and other gems, but it is also one of the world's poorest countries.
The women at the beginning of the sapphire supply chain
Madagascar's sapphires are mined by artisanal miners working with rudimentary tools. Many thousands of women work in the sector, usually digging and processing rough stones by washing and sieving – the work is gruelling, and the workers are paid poorly. Another group of women – known colloquially as 'ladies in hats' – trade the smaller stones to Malagasy middlemen or Sri Lankan traders.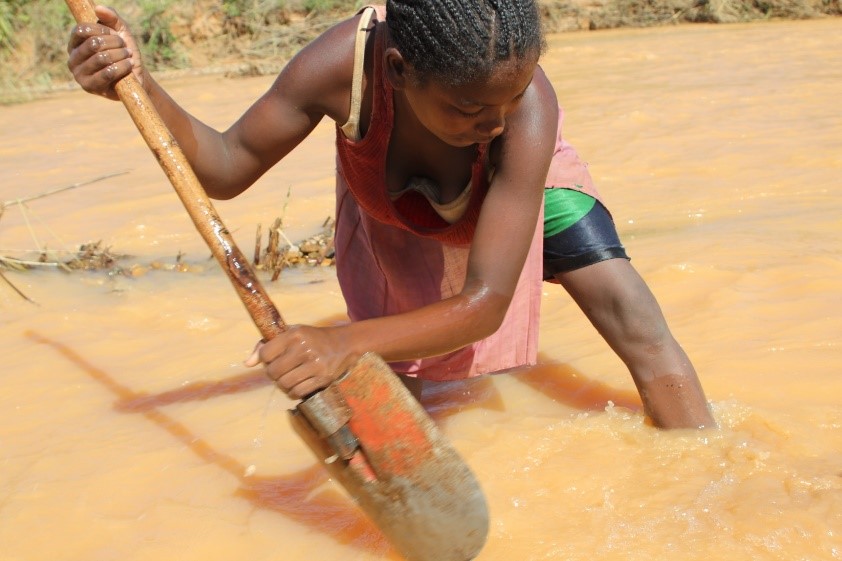 The women drawn into the industry are often from farming areas in the south of the country, where drought and climate change mean they can longer grow food crops. Mining presents few barriers to entry, requiring only good health and hard work, and while the pay is small, it affords a level of personal freedom to the workers. This is particularly important in female-headed households.
Dr Lynda Lawson's doctoral research over the past five years has documented the lives of these miners and traders, using first-hand accounts from the women themselves, and interviews with local authorities and civil society. She identified challenges the Malagasy miners and traders face, and opportunities they could leverage as part of this valuable commodity chain.
"While Malagasy women do have knowledge about gemstones passed on by family and tradition, they are not able to negotiate strongly for a good price when selling their stones," Ms Lawson said.
"They are often unaware of the names of their stones and the characteristics of a valuable stone, and current trends and prices. They have no tools, and some measure quantity with an aspirin container."
Building women's capacity through training and tools
Working with Charles Lawson (UQ geology alumnus, gemmologist and gem trader) and the Institut de Gemmologie de Madagascar, Ms Lawson designed and delivered training in basic field gemmology. They provided a kit of basic tools, including tweezers, a loupe, and a dichroscope to more than 150 women miners and traders in and around the main sapphire town.
"In our evaluation one year later, women told us they found this training was particularly worthwhile. The women's newfound knowledge gave them confidence and enabled them to earn more. On average they reported a nine-fold increase on the original price of stones," Ms Lawson said.
Ms Lawson's work was presented in the capital city of Antananarivo and in New York City at Columbia University. This opened up pathways to knowledge building and increased income for the women through initiatives funded by the German Development Agency, Deutsche Gesellschaft für Internationale Zusammenarbeit GmbH (GIZ), and the Tiffany and Co. Foundation, with guidance from Professor Saleem Ali of The University of Queensland and the University of Delaware via GemHub, the Gemstones and Sustainable Development Knowledge Hub.
"There has been great interest in the work we have done, from global foundations and sustainability advice firms like Dragonfly International," Ms Lawson said.
Another challenge facing the gemstone industry in developing countries is that of promoting in-country value adding.
"In India and Thailand, cutting and polishing gemstones is a highly skilled activity, often learned within families," Ms Lawson said.
"Madagascar does have some skilled cutters and there is training available at the Institut de Gemmologie de Madagascar, but this is too expensive for the women of this region."
New stone cutting facility to support Malagasy women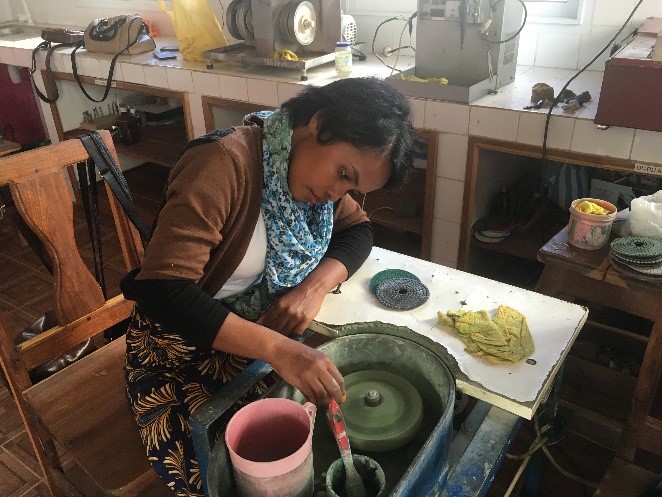 In 2018, a women's lapidary centre was opened in the dusty mining town of Sakaraha. The town is nestled in sapphire-bearing country, but local people have very little to show for their work. The large gem palaces and vehicles are all owned by foreign, mostly Sri Lankan, traders. Before the centre was established there were no facilities for cutting stones in the area. Stones were shipped out to the capital in the rough, and they would then be moved on to centres in Sri Lanka and Thailand for cutting and polishing.
With assistance from the German and Australian Governments, women miners from across the region have received lapidary training and now are making simple jewellery of their own design to sell to tourists.
Ms Lawson continues to work as an advisor to the project and her doctoral research has taken her across the globe, especially to India and Thailand, to see what opportunities exist there for Malagasy women in this complex and colourful supply chain.