Ventures, the entrepreneurship division of The University of Queensland (UQ), is partnering with the Vietnam Institute of Science Technology and Innovation (VISTI) to develop a collaborative centre in Hanoi, Vietnam.
The UQ-VISTI Innovation Centre Project was officially launched on Thursday, March 3, with leaders from both institutions formalising their intent to build expertise, facilitate networks, and promote research-industry engagement.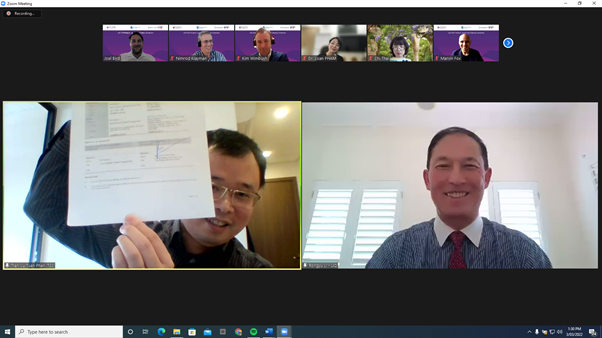 Funded by the Australian Government's Aus4Innovation Program, the project will be developed throughout the next 10 months and will serve as a model for further international collaboration.
Both Australia and Vietnam understand the importance of supporting entrepreneurs and small-and-medium businesses (SMEs) as society works to 'future-proof' livelihoods in a post-pandemic world.
SMEs generate more than one-third of Australia's gross domestic product (GDP) and provide for two-thirds of all jobs. In Vietnam, revenue from businesses contribute to more than 60 per cent of the country's GDP and provide work for millions of people. Vietnam, alone, is home to around five million entrepreneurs. These numbers grow every year.
With a population of close to 99 million, and a median age of 32.5 years, Vietnam has the human capital required to make significant strides in building a powerful global entrepreneurship ecosystem, provided it is supported to nurture entrepreneurial thinking and to protect intellectual property rights.
In contrast, Australia's population of 26 million has an established ecosystem where one in 10 Australians are already involved in early-stage entrepreneurship. Australia ranks number one out of 50 global economies for 'intrapreneurship', or engaging in entrepreneurial activities for their employer.
Australia already conducts a significant amount of business with ASEAN countries, and this is predicted to increase in the next five-to-10 years.
Deputy Vice-Chancellor (Global Engagement), Mr Rongyu Li, said now is the perfect time for UQ to build on its long-standing history with Vietnam and to drive entrepreneurship and innovation in both countries.
"The model of the UQ-VISTI Innovative Centre is not solely focused on infrastructure, but rather, aims higher to drive intellectual properties policies, develop databases and networks, advance technology, and provide innovation support for Vietnam's SMEs," Mr Li said.
"Vietnam's economic and community development priorities mirror UQ's strengths, particularly in agriculture, food safety, environmental science, innovation and digital transformation, tourism, and public health."
Acting Director of VISTI's Innovation and Technology Service Centre (ITSC) Mr Tran Vu Tuan Phan, said the project will strengthen Vietnam's innovation system, and help shape the country's innovation agenda.
"The innovation market in Vietnam is booming, with proposals to implement innovation and entrepreneur support centres on many scales, ranging from national, local to university offices," Mr Tran Vu Tuan Phan said. 
"This commitment between VISTI and UQ, a leading global university, is a critical link in the chain of building a strong and sustainable entrepreneurship ecosystem in South-East Asia."