Blog written by Miriam Agnes Yu from the Philippines, studying Master of Mental Health
Taking international post-graduate study at UQ while raising a toddler is a formidable journey, I am doing it anyway…
I am a first-year Master of Mental Health student at The University of Queensland (UQ). I am also a mother of a two-year-old daughter, a wife, a sister, a daughter, and a development worker. My most recent work experience with an international non-government organization providing humanitarian assistance and responding to disasters through health, mental health, and emergency services among others, inspired me to study a mental health program. I chose UQ because of its global academic reputation and excellence in research.
Before coming to Australia, a friend wished me luck knowing that I am pursuing postgraduate studies while looking after my little one while my husband works full time in an information technology role. At that time, I was uncertain what it entailed, brushed it off, and took the plunge.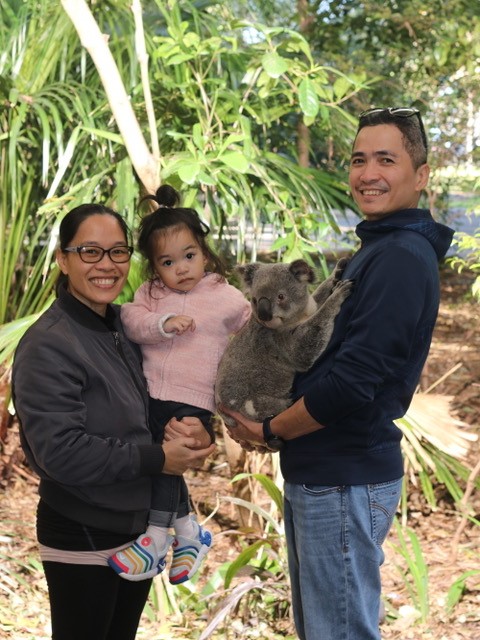 When classes commenced and course requirements started piling up, that's when I realised how hectic and challenging postgraduate studies could be whilst taking care of a toddler. Yet, UQ, along with my husband and family, have been instrumental since day one in helping me gradually accomplish my aim to complete my mental health degree. The flexible learning approach allowed me to study full-time while fulfilling my role as a first-time mom and a homemaker. I am also grateful for the International Onshore Merit Scholarship that UQ awarded me as well as the ACISA Stress and Trauma Scholarship for my coursework research.
Indeed, studying at UQ requires hard work, yet the arduous learning process is worth the sleepless nights and tearful days as UQ provides all the necessary support a student would need – from delivering borrowed books to your doorstep to library support, high-quality teaching team, educational financial support and so on. I could not ask for more and I look forward to completing my degree from UQ with a competitive advantage in my chosen field and a fervor desire to pay forward by serving the underprivileged and vulnerable sector wherever I will be in the future.