The University of Queensland has secured an internationally significant partnership with the Japanese Government that will boost research and innovation around commercial production of sustainable biofuels.  
UQ has signed an agreement with the Moonshot Research and Development Program, a Japanese Government initiative bringing together the world's leading experts to tackle complex global challenges including sustainable food production and consumption. 
UQ Vice-Chancellor Professor Deborah Terry said the partnership would see both institutions share knowledge, undertake joint research projects and support technological developments.
"By collaborating with the Moonshot program, we can leverage our strengths to enable a smarter and cleaner global food supply," Professor Terry said. 
"Given the world's agricultural farmland is a finite resource, it's going to require game-changing innovation to secure sustainable sources of food and energy for the global community over the coming decades.
"We are excited to formalise our relationship with such an ambitious and goal-orientated program and look forward to working with Japan's leading researchers to create disruptive innovations and new technologies."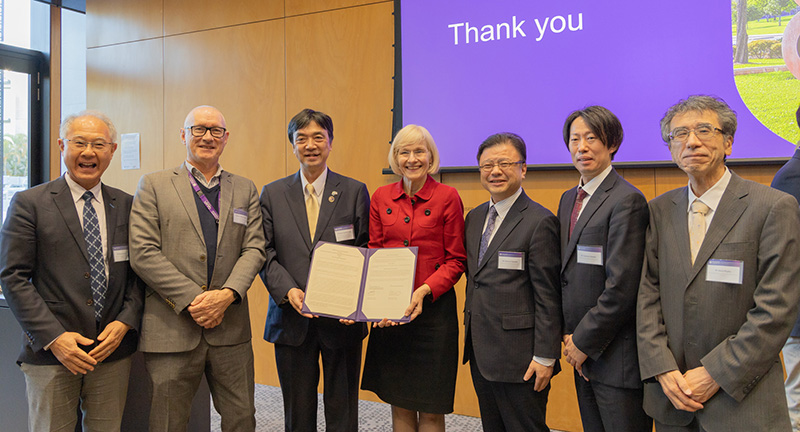 UQ research will initially focus on creating commercial supply of biofuels from the pongamia plant, an oil-rich legume grown in northern Australia.
Professor Damian Hine from UQ's Queensland Alliance for Agriculture and Food Innovation said the partnership would progress research and development into optimising the yield and quality of agricultural feedstocks and scaling the production of pongamia and other crops across a well-defined portfolio, which brings UQ's deep involvement with industry, governments and lead universities from both Japan and Australia. We are at the very beginning of a new industry. 
"Japan has set aggressive decarbonisation targets for its aviation sector, including 10 per cent sustainable aviation fuels by 2030 – and they are turning to UQ to help achieve this," Professor Hine said.  
"We are exploring the stable supply of sustainable aviation fuel from pongamia and other crops including, genetics, speed breeding and propagation, protected cropping, digital agriculture, and sustainable yet efficient farming systems.
"Queensland is very well-positioned to support the value chain for the future production of biofuels, as well as the development of other large industrial-scale projects that contribute to global decarbonisation efforts."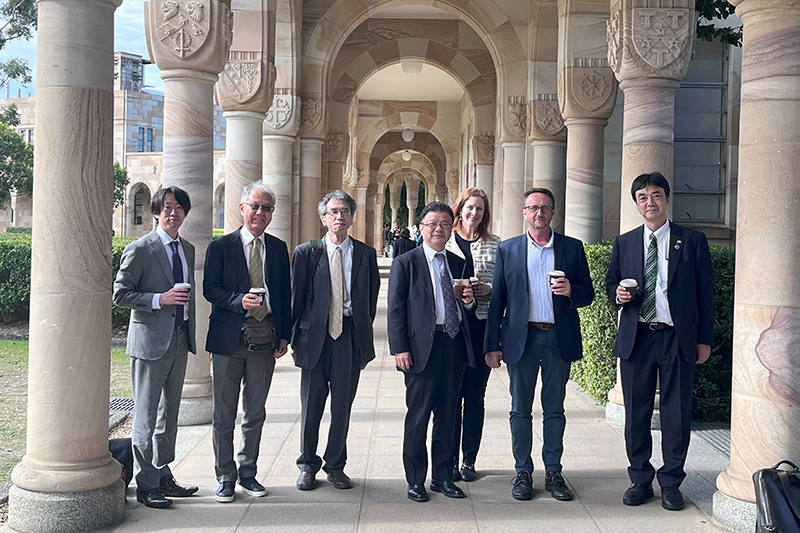 Tokyo University of Agriculture and Technology President and Moonshot Goal 5 leader, Professor Kazuhiro Chiba said the collaboration with UQ would ultimately contribute to easing the strain on sustainable food supply.  
"The world is facing a challenge to meet a global demand for food that is estimated to increase by 70 per cent in less than 30 years," Professor Chiba said. 
"With a clear vision, we must think outside the box and establish food production systems that are environmentally friendly and support our communities."
The partnership has been facilitated by a number of Trade and Investment Queensland, and Queensland Government projects to support the development of new industries – including the Biofutures Roadmap, the Hydrogen Industry Development Strategy, and the Energy and Jobs Plan.
The project aligns with the recently launched Queensland New-Industry Development Strategy which aims to establish Queensland as an Asia Pacific hub for biomanufacturing and biorefining. 
The signing of the UQ–Moonshot agreement was witnessed by representatives from the Queensland Government and Trade and Investment Queensland. 
Media: UQ Global Partnerships, i.cavalliotis@uq.edu.au, +61 422 465 471; UQ Communications, communications@uq.edu.au, +61 429 056 139.