PNG Graduate Certificate in Governance and Public Policy
This course was delivered to a cohort of 20 mid-level female public servants from multiple agencies within the PNG Government. It provided Awardee's with the knowledge, skills and networks to design and implement improvements contributing to their organisations' effectiveness in fulfilling operational mandates.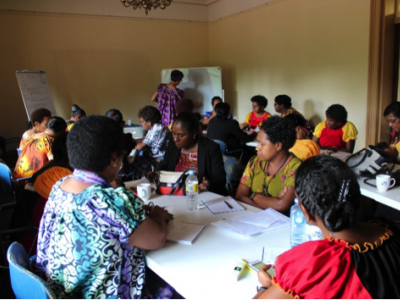 The Graduate Certificate in Governance and Public Policy (GCGPP) was embedded in a broader three-part program, balancing between the theory, key concepts and issues of governance and public policy and their subsequent application in practice the program integrated a robust formal program (to meet AQF qualification standards) with extension activities and PNG contextualisation, including applied teaching components and extensive engagement with academics and public sector practitioners from the government in Australia and PNG.
The GCGPP was designed to provide Awardees with a skill-set to be used to negotiate the challenges presented within domestic and international facing policy systems by providing world-class scholars, policy practitioners and cutting-edge research to equip participants with an advanced theoretical and practical understanding of twenty-first-century governance, public policy dynamics and the relationship between law, economics and public management.
The extension program involved the integration of the research assessment component of the Program with the Work Plan on Return (WPR) and workplace mentoring. Participant's research assessments were linked specifically to a project in their workplace and complemented by access to a remote mentor as well as the delivery of face-to-face mentoring.
In addition to the five weeks of program delivery in Australia, both a Pre-Course and Post-Course workshop was delivered by the Course Facilitator in Port Moresby to prepare students for course delivery in Australia in the first instance and finalise, assess and support the implementation of their Work Plan on Return at the conclusion of the Fellowship.
---
Duration: January 2015–November 2015
Funding source: Department of Foreign Affairs and Trade