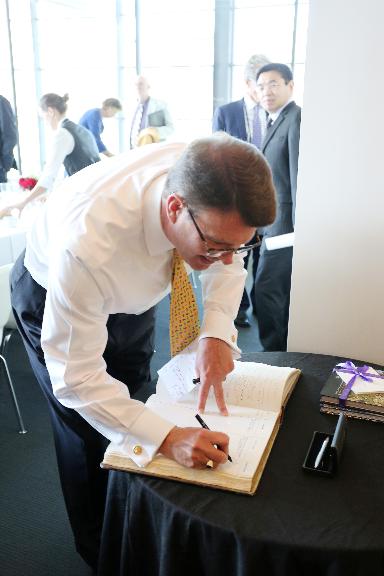 A strong strategic relationship was affirmed at a recent meeting between the new US Ambassador to Australia and The University of Queensland (UQ).
UQ's Vice-Chancellor and President Professor Peter Høj received His Excellency Mr John Berry and his delegation at the UQ St Lucia campus on the 5 February as part of the Ambassador's first official State visit to Queensland.
UQ's Deputy Director - Global Engagement Dr Jessica Gallagher said that the State visit provided an ideal opportunity to further promote and develop closer links between UQ and the USA.
"The US is a key strategic partner for UQ and we are proud to have more than 50 partnerships with US-based universities and institutes, and growing connections with corporations, foundations and organisations," she said.
"We welcome the Ambassador to our university, and to Australia, and look forward to working closely with his office to strengthen the US-UQ alliance."
The University of Queensland was the only university on the Ambassador's itinerary on this occasion.
UQ last welcomed a US Ambassador to Australia almost seven years ago, when His Excellency Mr Robert McCallum Jr met with the current Vice-Chancellor John Hay.
Quick facts:
UQ received AUD$43.66 million in annual research funding with USA partners in 2013, a 50.8 per cent increase from 2012.
US students were the 4th largest full-degree international student cohort at UQ in 2013, and the largest for non-award programs.
The USA is the most popular destination for UQ students wanting to build global perspectives and undertake an exchange.
UQ has more than 7,000 recorded alumni living in the USA.
UQ officially launched its North America Office, based in Washington DC, in June 2012, demonstrating its commitment to strengthening our engagement in the USA.
Media: International Delegations & Visits, phone: +61 7 3365 1972, email:international.visits@uq.edu.au.