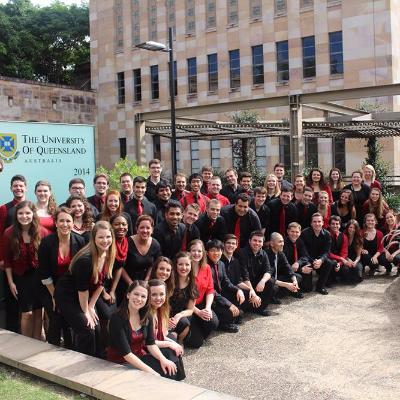 The Singing Hoosiers of Indiana University showcased how music can transcend nationality, culture and generation when they  performed at The University of Queensland (UQ) on the 14 May.
The ensemble, including 47 singers and 8 instrumentalists, played to over 100 students and staff at the St Lucia campus as part of their tour of Australia.
The fun and energetic performance included the best of the Great American Song Book, jazz, pop and contemporary music, accompanied by some dazzling choreography.
ICTE-UQ English language student Juliana Viezel from Brazil attended the performance with a group of her classmates.
"The Hoosiers were really amazing. The performance was so fun and energetic. Hearing students from other countries sing here in Brisbane is really inspiring," she said.
Juliana said that her favourite song in the performance was the a cappella Beatles number.
"I'm a member of the ICTE-UQ student choir and their rendition of this song has really motivated me to keep singing and working on my own performances."
UQ staff member Ms Siyu Wang also attended the show and had nothing but praise for the Hoosiers.
"The Hoosiers were confident, energetic and professional," she said.
"This was one of the most enjoyable performances that I've seen so far at UQ."
The Singing Hoosiers comprise students from the Indiana University Jacobs School of Music, along with other talented students from the US university. 
The visit to UQ gave the group the opportunity to visit the Alma Mater of Indiana University's President Michael McRobbie, who graduated from UQ with a degree in 1974, and also received an honorary D.Sc in 2007.
UQ Global Engagement's International Delegations and Events team worked with the Queensland Show Choir to arrange this performance.