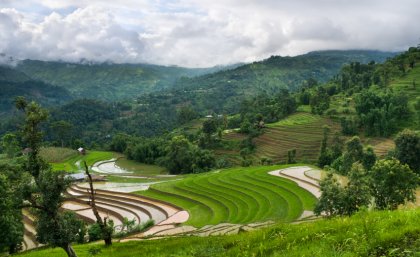 Millions of starving people across the globe could benefit from the work of a University of Queensland student.
PhD candidate Kalika Upadhyay's dream for food security in developing countries is one step closer through his research into the use of biochar (charcoal) to produce more sustainable agriculture soils.
Mr Upadhyay said he was  focusing his UQ-based research on his home nation of Nepal and other similar countries, where the government faced the challenge of managing solid waste produced from agriculture, forestry and municipalities.
"Agriculture is the major industry in Nepal, where millions of people are suffering from hunger, malnutrition and poverty," he said. 
"My research suggests that most of the solid wastes derived from plants could be used for producing biochar which should be a sustainable way of adding carbon in soils."
Mr Upadhyay's research was recognised at the 29th International Conference on Solid Waste Technology and Management in Philadelphia, USA, where he won the Student Paper Award for a paper based on his PhD research.
"Receiving this exciting award from my peers only strengthens my desire to produce some viable solutions in the area of sustainable agricultural development," he said.
"My hope is that my research will contribute to the understanding of soil fertility management systems for food production so that no one in Nepal, or the world, will go hungry due to the lack of healthy food."
Mr Upadhyay is one of more than 1400 sponsored students from more than 90 countries completing their studies at UQ.  
UQ's Deputy Director of Global Engagement Dr Jessica Gallagher said the University was strengthened by the diversity of its international student community.
"Sponsored students, along with all of our international students, promote the understanding of different perspectives and enhance the learning experience of our entire student body," she said.
"Scholarship opportunities provided by the Australian government, in addition to other foreign governments and organisations, mean a large number of international students such as Kalika to pursue their academic and personal goals."
The UQ Global Engagement Office collaborates with more than 70 scholarship partners around the world so international students can successfully study and research at UQ.
Media: global.engagement@uq.edu.au