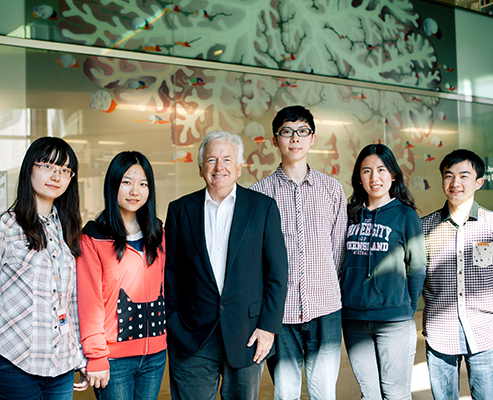 The concept of 同舟共济, or tong zhou gong ji, translates from Mandarin as 'people on the same boat should assist each other', reflecting a mutual commitment to research and education that underpins UQ's relationship with China.
In addition to having nearly 3000 Chinese students, UQ has approximately 114 formal research and academic agreements with more than 50 official Chinese partners. The partnerships include relationships with government bodies such as the China Scholarship Council and Confucius Institute Headquarters; research institutes such as the Chinese Academy of Science, Academy of Agricultural Sciences and Chinese Academy of Social Sciences; all members of the prestigious C9 league universities and businesses including Baosteel Group Corporation and Shandong Fangyuan Nonferrous Metals Group.
"We have research collaborations and exchange agreements with almost every one of the top 44 universities in China," said Provost and Senior Vice-President Professor Max Lu.
As a Chinese-born scholar, Professor Lu is a strong advocate for UQ's relationship with China, which has continued to grow with new learning, research and engagement initiatives. Personally, Lu has been lauded for his significant research in materials science and nanotechnology, receiving a prestigious award from President Hu Jintao for his "distinguished and sustained contributions to collaboration with China in science and technology".
Vice-Chancellor and President Professor Peter Høj shares Lu's passion for engagement with China. In 2013, he was announced as an Honorary Professor at Tianjin University in China. Professor Høj is also a senior consultant on the board of the Confucius Institutes' headquarters, known as Hanban. He is the first consultant from a university in Australia and the Oceania region to be honoured with this role.
Chinese students form the largest group of international students in Australian universities, and China is the second most popular destination for students from Australia taking an international study experience. Linkages exist with academics, teams of scholars and schools, faculties and institutes, with research underway in food and water security, energy, health, climate change, sustainability and business.
The Confucius Institute promotes the learning of Chinese language and culture at the University and in the community, and initiates, facilitates and promotes student and staff exchanges and research collaborations with a focus on Chinese studies and science, engineering and technology. The Institute supported UQ in negotiating a joint PhD supervision program with Tianjin University, China's oldest higher education institution in its modern history. Initial graduations are expected in 2015. "The program has been very well received by students," said Director of the Confucius Institute, Professor Ping Chen.
Along with partners including the University of New South Wales, Monash University and the University of Wollongong, UQ established the Baosteel–Australia Joint Research and Development Centre with the Baosteel Group Corporation. "It seeks to create fundamental knowledge and exploitable technologies with commercial relevance to the steel industry, and focuses on metallurgy and new materials, energy utilisation, environmental sustainability and other new technologies," said Deputy Vice-Chancellor and Vice-President (International) Professor Monique Skidmore.
UQ has over 3000 alumni in China, with alumni associations in Shanghai and Beijing. UQ also arguably boasts the largest concentration of academics with Chinese origins in Australia, across fields including Science; Engineering; Medicine; Humanities and Social Science; and Business, Economics and Law.
Such linkages testify to UQ's extensive ties with China and reputation as a top 100 university that facilitates unique international career opportunities. "International experience, mobility and placements integrated into research partnerships will improve student experiences," said Lu. "In a globalised world, any institution offering these types of opportunities will attract more top students and researchers who are globally minded."
Download the Contact app for exclusive content, including videos, photos and more stories about UQ's linkages with China. Mandarin translations are available for all Spotlight on UQ in China stories.
This story originally appeared in the Winter 2014 edition of Contact Magazine.
Mandarin translation 
中国:聚焦昆士兰大学
"同舟共济"这一理念的意思是"在同一只船上的人应互相帮助",这反映出昆士兰大学与中国的关系是建立在研究和教育的相互承诺之上。
昆士兰大学有近3000名中国学生,还与中国50多个官方合作机构有约114个正式的研究和学术协议。
这些合作关系包括与中国国家留学基金管理委员会和孔子学院总部等政府机构建立的关系,还包括中国科学院、农科院和中国社科院等研究机构,著名的九校联盟的所有成员,以及宝钢集团公司和山东方圆有色金属集团等企业。
首席副校长逯高清教授表示:"我们与中国几乎所有排名在前44名的大学都有研究合作和交流协议"。
逯教授是一名出生在中国的学者,是昆士兰大学与中国关系的有力代言人。这种关系随着新的学习、研究和参与举措的不断增加而持续增长。
逯教授本人因在材料和纳米技术领域的重大研究成果而获得高度赞扬,并获得前国家主席胡锦涛、前国家总理温家宝、现任国家总理李克强和副总理刘延东颁发的优秀奖,表彰其"在科技领域与中国合作不断做出的突出贡献"。
昆士兰大学校长Peter Høj教授跟逯高清教授一样,对与中国合作充满热情。2013年,他被任命为中国天津大学的名誉教授。Høj教授也是孔子学院总部,即汉办董事会的高级顾问。他是澳大利亚大学和大洋洲地区担任这一职位的第一人。
中国学生是澳大利亚大学中的最大国际学生群体,中国又是澳大利亚学生进行国际学习体验第二个最受欢迎的地方。与中国的联系广泛存在于学者、学者团队、院系、学院以及研究院之中。所开展的研究包括食品、水安全、能源、健康、气候变化、可持续发展和商业等领域。
孔子学院在大学和社区中推广学习汉语和中国文化,建立、促进和推动学生和员工交流,并开展以中国研究、科学、工程和技术为重点的研究合作。孔子学院支持昆士兰大学与天津大学—中国现代史上最古老的高等学府—洽谈建立联合指导博士生的项目。预计在2015年将有第一批学生毕业。
孔子学院院长陈平教授称:"该项目受到学生的热烈欢迎"。
昆士兰大学与新南威尔士大学、莫纳什大学和卧龙岗大学等合作机构一起,与宝钢集团公司成立了宝钢 – 澳大利亚联合研究和发展中心。
Monique Skidmore副校长(国际)表示:"该中心寻求创造在钢铁行业具有商业相关性的基本知识和可利用的技术,并侧重冶金和新材料、能源利用、环境可持续性和其他新技术"。Exploitable
昆士兰大学在中国有3000多名校友,在上海和北京都有校友联合会。可以说,昆士兰大学在澳大利亚汇集了最多的中国籍学者,所涉领域包括科学、工程、医药、人文和社会科学、商务、以及经济和法律。这些关系证实了昆士兰大学与中国有着广泛的联系,也证实了昆士兰作为全球前100名大学在促进独特的国际事业机会方面所享有的名誉。
逯高清教授说:"国际体验、流动性以及与研究合作相结合的实习将提升学生的体验"。
"在一个全球化的世界,任何一所提供这种机会的大学都会吸引更多具有国际思维
的顶尖学生和研究者。