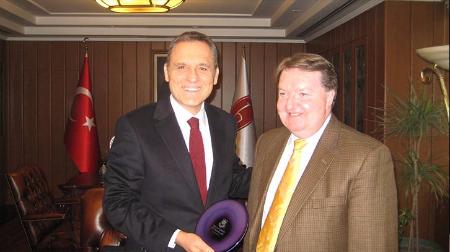 As part of The University of Queensland's activities to mark the First World War centenary, the School of History, Philosophy, Religion and Classics hosted the 33rd Australian Historical Association conference, themed Conflict in History, from 7 to 11 July 2014.
The conference attracted approximately 450 delegates from around the world.
In an effort to advance mutual understanding of the place of Gallipoli and the First World War in our countries' histories, UQ hosted Emre Saral from Hacettepe University in Ankara, Turkey, as one of the conference delegates.
Mr Saral attended many papers at the conference, and also presented a paper on his research.
Such activities serve to assist engagement between UQ and Turkish higher education institutions as well as provide valuable "second-tier" diplomacy opportunities.
The School of History, Philosophy, Religion and Classics is keen to advance the engagement with Hacettepe further through staff visits, public lectures, joint PhDs and undergraduate study tours.
It is intended that there will be a return visit in May 2015 with Associate Professor Martin Crotty presenting a lecture at Hacettepe or in Istanbul.
Mr Saral's visit is an example of how UQ's relationship is continuing to grow.
The relationship commenced more than 15 years ago when UQ's Julius Kruttschnitt Mineral Research Centre (JKMRC) collaborated with mining academics at Hacettepe and continues with JKMRC's Professor Dee Bradshaw recently returning from Hacettepe after a few months teaching there and identifying new opportunities.
In June, Professor Hakan Benzer from Hacettepe's Department of Mining Engineering was at UQ for the P9 Sponsors Research meetings, while in January a small delegation led by Professor Al McEwan visited Hacettepe University and met with their Rector, Prof. Dr. Murat Tuncer, who expressed his desire for Hacettepe and UQ to expand our relationship.
Subsequently Global Engagement's International Partnerships team have been liaising with other areas of UQ to identify mutually beneficial academic exchanges.
The centenary of Gallipoli in 2015 will be a special year for Australia's relationship with Turkey, and a year that will see UQ's bond with Hacettepe deepen further.