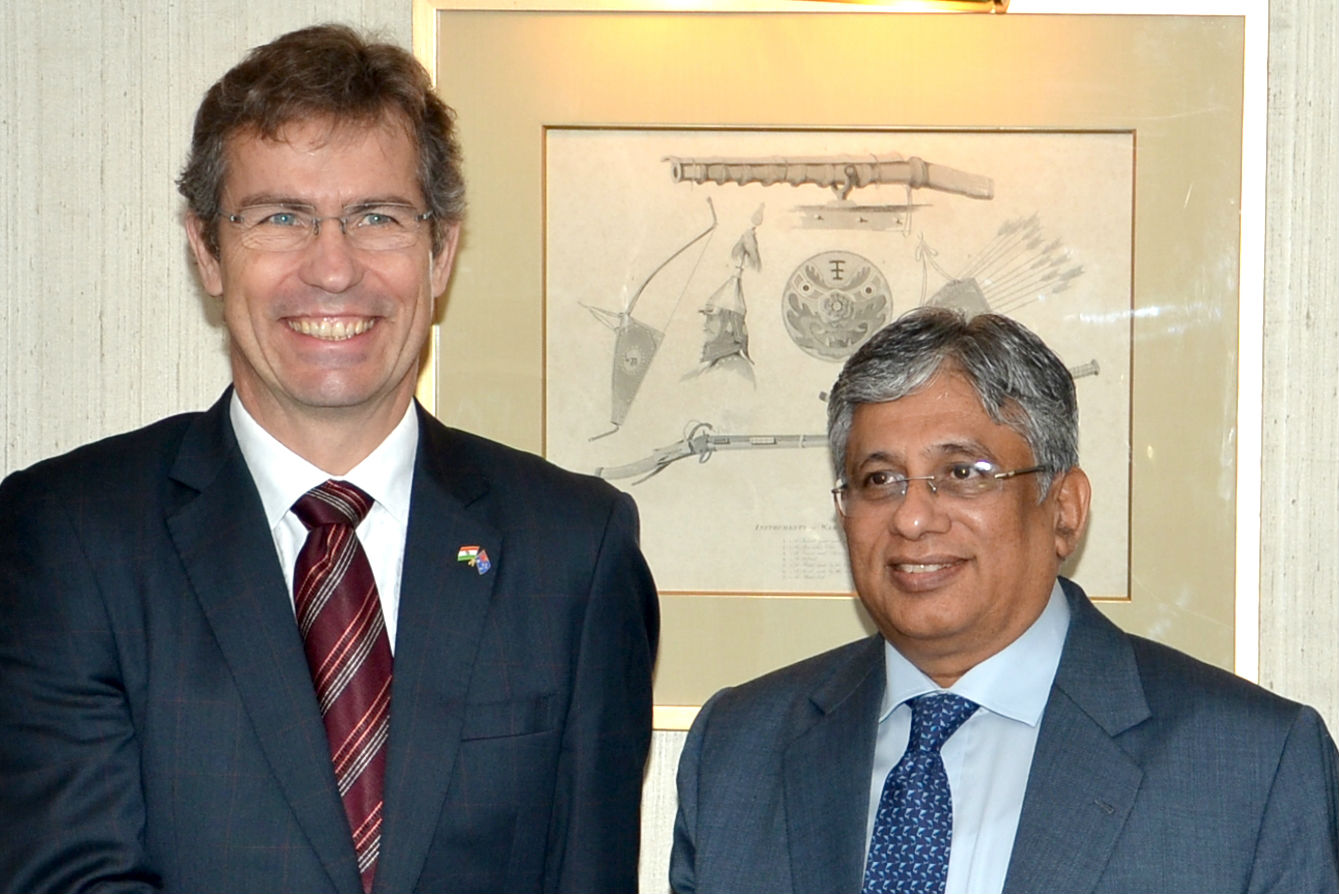 The University of Queensland (UQ) has strengthened its relationship with the Indian Council for Agricultural Research (ICAR) with the signing of a Memorandum of Understanding in India on 5 September 2014.
UQ President and Vice-Chancellor Professor Peter Høj said the agreement would provide a platform for the exchange of agricultural scientific and technological expertise.
"UQ is a global leader in agricultural research and has consistently ranked in the top 100 in the major world university rankings and, significantly, in the top 40 in agriculture and life sciences*," Professor Høj said.
"Global food security is one of the major challenges of the 21st Century, and this agreement will support our determination to be part of the solution, in line with UQ's vision to provide knowledge leadership for a better world."
"India and Australia share common crops and common issues that we can address jointly with ICAR. The partnership between UQ and ICAR will provide research solutions to improve animal health and the productivity of horticultural crops."
The University of Queensland has a long history of research collaboration with Indian partners, boosted by the 2011 establishment of the UQ India Seed Funding Initiative.
The initiative supported early stage UQ collaboration in India, with more than $350,000 going to UQ faculties, institutes, schools and centres for India engagement projects.
"I expect our engagements with India will reach much higher levels as UQ establishes its profile and matures its partnerships with ICAR," Professor Høj said.
He said the MOU heralded exciting possibilities for UQ and ICAR, and for Australia and India, and would contribute to previous outstanding examples of UQ-India research collaboration on issues of significant global concern.
"One such example is the 'Grand Challenge Priority Theme of Food Security' project headed jointly by UQ's Associate Professor Gimme Walter and Tamil Nadu Agricultural University's Professor Chandrasekaran Subramaniam.
"The project involves an alliance of researchers from UQ, the Queensland Department of Agriculture, Fisheries and Forestry, Tamil Nadu Agricultural University, the Indian Agricultural Research Institute, the Indian Institute of Crop Processing Technology, and the Central Food Technological Research Institute.
"It is designed to improve post-harvest protection of the grain supply chain by effective management of phosphine resistance in insect pests."
Professor Høj said that the 2013 Biofuels and Crop Protection workshop facilitated by UQ's Queensland Alliance for Agriculture and Food Innovation (QAAFI) and the Indian Department of Biotechnology was another outstanding effort.
The workshop, which was held in Delhi, was attended by more than 40 scientists from Indian universities and research institutes.
In recent months, UQ has also collaborated with ICAR researchers to deliver workshops on animal vaccine delivery platforms and horticultural crops.
"These workshops have proved an ideal platform to promote in-depth scientific communication and collaborations for researchers working in this multidisciplinary field," Professor Høj said.
Professor Høj was part of a business delegation accompanying Australian Prime Minister Tony Abbott on his first official visit to India. The MOU signing was reported in Indian media here.
* UQ is ranked at 37 in Life and Agriculture Sciences in the 2014 Academic Ranking of World Universities; at 18 in the world for Agriculture and Forestry in the QS World Rankings; at 30 for Life Sciences (includes Agriculture, Fisheries and Food, Plant Sciences) in the 2013-14 Times Higher Education rankings; and at 37th in Agriculture and 16th in Plant and Animal Science in the National Taiwan University rankings.