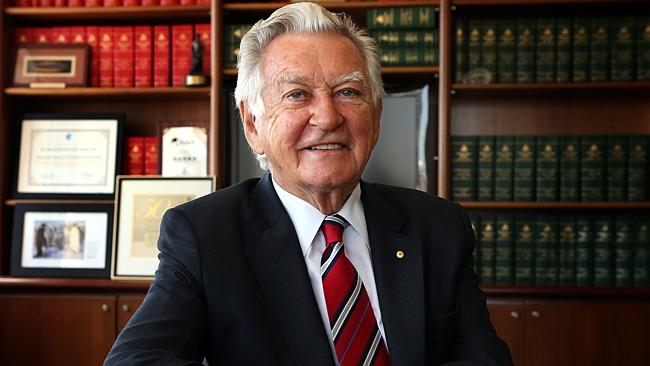 Former Australian Prime Minister Mr Bob Hawke will address an Asia Pacific Forum to be hosted by the University of Queensland on Monday (17 November).
The forum, to focus on co-operation and innovation in the Asia Pacific, is a joint initiative of the Chinese Academy of Social Sciences (CASS) and UQ.
UQ Vice-Chancellor and President Professor Peter Høj said the CASS-UQ Asia Pacific Forum aims to deepen understanding between Australia and China on bilateral, regional and international affairs, and enhance and strengthen collaborations and relations.
"With the G20 Leaders' Summit providing a backdrop, the CASS-UQ Asia Pacific Forum brings together international leaders in government, business, and education for a scholarly exchange," he said.
Queensland Governor Paul de Jersey will open the Forum and Mr Hawke will deliver the keynote address.
Panel sessions will explore the topics Economic Growth in the Asia Pacific, Innovation in Energy and the Environment, and Building a Culture of Cooperation.
"The topics offer our expert panelists an opportunity to engage and interact on these broad social, economic and policy issues that the Asia Pacific region will face in coming decades," Professor Høj said.
"UQ, and indeed other Australian institutions, have enjoyed excellent collaborative relationships with China, especially in the areas of science, engineering and technology.
"This forum brings the social sciences into sharper focus and will act as a catalyst for discussions on mutual understanding, friendship and co-operation as a means of optimising the benefits to society from scientific progress.
"Crucially, the forum has eminent thinkers who engage with public debate and policy formation and teach and advise youth from China, Australia and scores of other nations," Professor Høj said.
The CASS-UQ Asia Pacific Forum will be held at the GHD Auditorium, Advanced Engineering Building, St Lucia.
Media: Deputy Director (Global Engagement) Dr Jessica Gallagher, j.gallagher@uq.edu.au, +61 7 334 67869.