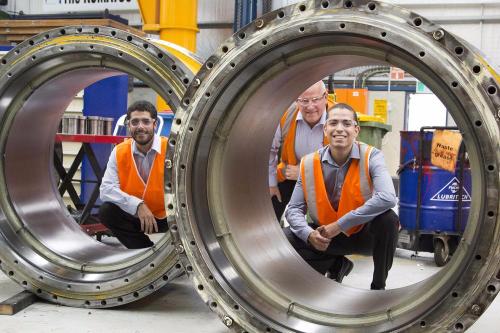 The University of Queensland has won the Premier of Queensland's Export Award for Education and Training for a second year running.
The honour recognises UQ's innovative program for Brazilian students studying in Australia through the Science without Borders scholarship scheme, primarily funded by the Brazilian Government.
UQ Deputy Vice-Chancellor (International), Professor Monique Skidmore, said the award highlighted the enormous benefits of engaging with the local business community to deliver programs for international students.
"The Science without Borders program is a key initiative of the Brazilian Government to develop human capacity through the international mobility of graduate students and researchers," Professor Skidmore said.
"It offers Brazilian students studying science, health, technology or engineering an opportunity to work and study internationally, at some of the best universities in the world.
"UQ helps Science without Borders students develop practical applied knowledge and innovation potential through a tailored program which includes workplace preparation and a research placement or internship at a Queensland business, coordinated through Australian Internships."
Professor Skidmore said the support of the Queensland business community was essential to the program's success.
"There are currently 417 Brazilian students enrolled in the program at UQ, compared to 129 in 2013," she said.
"UQ has one of the largest Science without Borders cohorts in Australia, with the program injecting approximately $8.5 million into the Queensland economy in 2014," Professor Skidmore said.
Media: Deputy Director (Global Engagement) Dr Jessica Gallagher, j.gallagher@uq.edu.au +61 7 334 67869