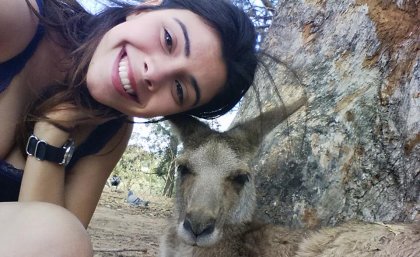 University of Queensland student Bruna Maganhe has spent her summer break caring for native animals and learning from leading zoologists at Brisbane's Lone Pine Koala Sanctuary.
The Brazilian study abroad student is majoring in animal science and is one of more than 100 Science Without Borders students taking part in an award-winning workplace preparation and internship program coordinated by UQ Global Engagement,Australian Internships and the UQ Business School.
Ms Maganhe said she had gained valuable experience during the summer program.
"The practical parts of my courses have really been above my expectations and I feel that I've learnt more about wildlife than ever before," she said.
"Working at the sanctuary kept us busy, with plenty of cleaning, food preparation and operating special equipment, but it was full of fun times as well, including feeding, handling, bathing and playing with the baby crocodiles and koalas.
Ms Maganhe encouraged her fellow Brazilian students to apply for the Science Without Borders program at UQ.
"Some of my friends were studying at UQ and they all advised me to do the same as they were finding their study abroad experience really enjoyable," Ms Maganhe said.
"During my time here at UQ so far, I've learned English with amazing teachers at ICTE-UQ and my lecturers support their teaching with examples from their research.
"I thought language would be my biggest challenge, as I've never worked in an English-speaking environment before.
"Surprisingly, it hasn't been a problem at all – the best way to learn is by practising."
Science Without Borders is a large-scale scholarship program funded primarily by the Brazilian government that aims to encourage the expansion of science, technology and innovation in Brazil through international exchange and mobility.
Since 2012, UQ has hosted more Science Without Borders students than any university in Australia.
Media: Melanie Martin on +61 7 3346 0665 ormelanie.martin@uq.edu.au