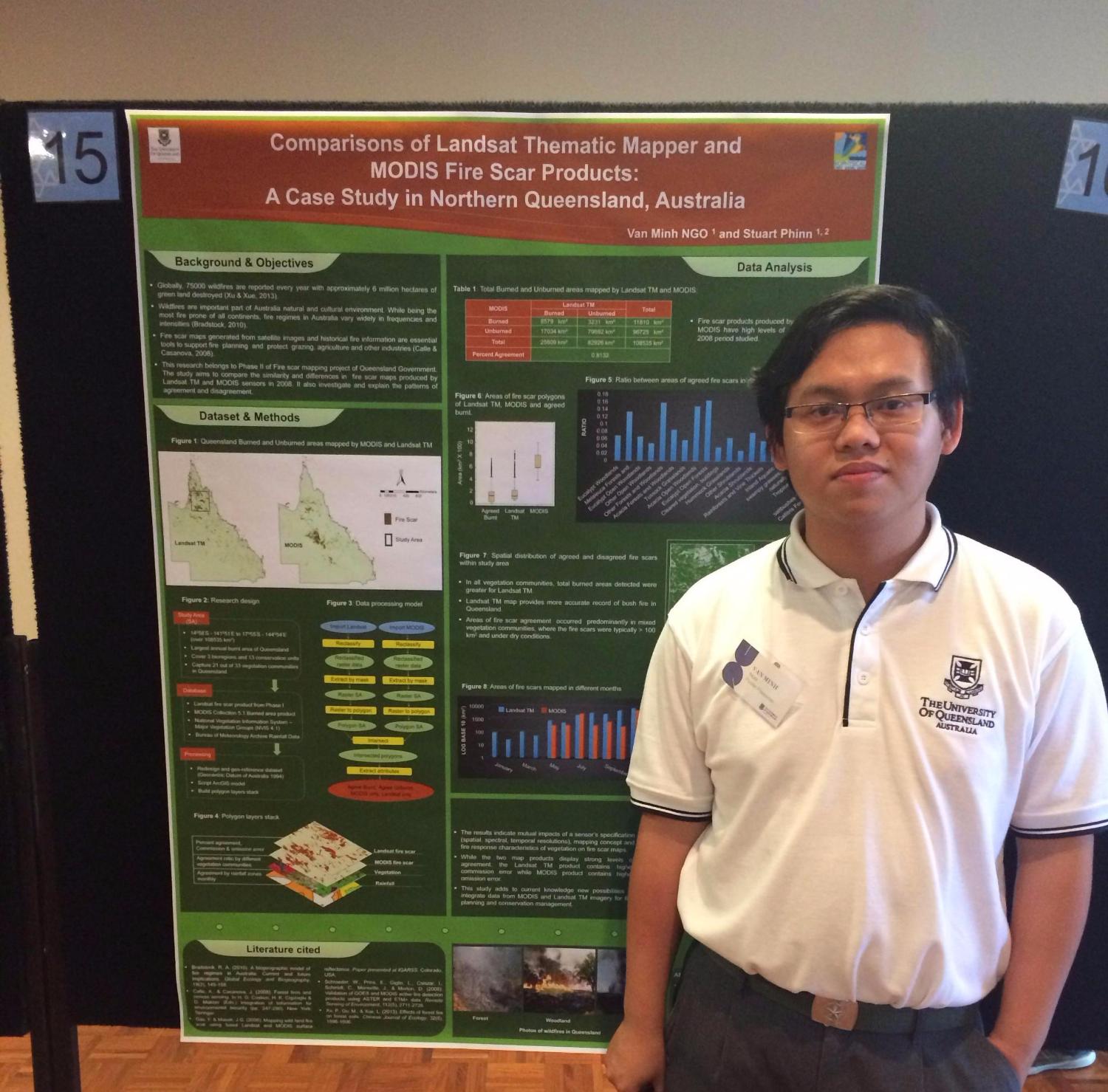 This semester, as The University of Queensland welcomes over 570 new international scholarship students, Van Minh Ngo is preparing to graduate from a life-changing experience made possible through UQ's partnerships with international sponsors.
Mr Ngo, who is completing a Bachelor of Environmental Management in Sustainable Development, received a scholarship to study at UQ from the Da Nang Centre for Promotion of Human Resources Development (CPHUD) in Vietnam, one of UQ's 87 international scholarship partners.
Although he is yet to graduate, Mr Ngo's research has already led to conference presentations and accolades.
"In 2013, I received a UQ Summer Research Program scholarship to assess the industrial lifecycle and better understand the sustainability of bioplastics," Mr Ngo said.
"Later, I was accepted for an internship with the Biophysical Remote Sensing Group, where I was involved in a collaborative project between School of Geography, Planning and Environmental Management and the Joint Remote Sensing Research Program. The aim of the research is to integrate data from different satellite imagery to improve the accuracy of fire scar mapping products.
"In September 2014, I presented this research at the UQ Undergraduate Research Conference, where I received a prize for best poster presentation.
"I then received a UQ Advantage Grant to present at the Third Australasian Conference of Undergraduate Research and the Posters in Parliament exhibition, held in Canberra."
Mr Ngo, who received the Dean's Commendation for Academic Excellence alongside his research pursuits, credits his success to teaching quality and mentorship.
"UQ has a great reputation for leadership and innovation and lecturers are high-profile experts in their fields," he said.
"I have been honoured to conduct research for two years under the supervision of Professor Stuart Phinn, Director of the Centre for Spatial Environmental Research.
"It has definitely been one of the best experiences of my life."
For the past two years, Mr Ngo has also contributed to UQ as a student leader, currently holding roles in the Student Relations Team to assist first year students and as a Multi-Faith Chaplaincy Student Leader.
Upon his expected graduation this semester, he intends to pursue a PhD and apply his knowledge in Vietnam.
"The knowledge, networks and work experience I have gained during my time at UQ are invaluable," he said.
"I now have a passion to develop the first remote sensing research network in my country."
Mr Ngo is one of more than 1700 international sponsored students from 93 source countries at UQ.
UQ's Deputy Director of Global Engagement Dr Jessica Gallagher said scholarships enable high-achieving students like Mr Ngo to pursue their academic and professional aspirations, while enriching the University by promoting global perspectives.
"Our relationships with international sponsors are an example of how UQ is partnering for global impact to achieve our mission of knowledge leadership for a better world," Dr Gallagher said.
"Students like Mr Ngo represent the next generation of global leaders and will play a significant role in improving capacity within our region and continuing to strengthen links between Australia and South East Asia."
UQ Global Engagement recently held orientation events for international scholarship recipients, including 144 Australia Awards students, 149 study abroad students supported by the Brazilian Government's Science Without Borders Program, and 278 students supported by other worldwide sponsors.