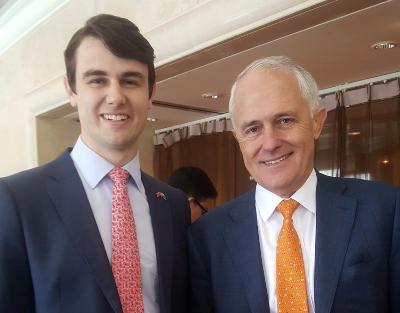 A University of Queensland student on exchange in China has some new credentials to add to his CV - improving China—Australia relations alongside world leaders.
Elliott Johnson was selected as a volunteer for the Agribusiness Stream during this month's Australia Week in China (AWIC), led by the Minister for Trade and Investment Steven Ciobo and attended by Prime Minister Malcolm Turnbull. 
The commerce and economics student is studying at Peking University in China with the support of a New Colombo Plan (NCP) Mobility Grant.
He was one of a select group of students chosen by the NCP Secretariat to volunteer during the event.
"AWIC is a week-long promotion of Australian companies seeking to engage with Chinese partners," Mr Johnson said.
"Through the Australian Embassy and NCP, I was fortunate to meet Prime Minister Malcolm Turnbull MP on his two-day visit to China.
"As part of the delegation I visited a wholesale seafood marketplace in Chengdu with Tasmanian Premier Will Hodgman, and gained further insight into the sheer size of China's market."
Mr Johnson said he was fortunate to be supported by a program like the NCP.
"The program provides opportunities for Australia students to gain new perspectives on their academic studies as well as enabling valuable international networking opportunity," he said.
"The government is hugely supportive of young Australians studying abroad in Asia.
"I've directly benefited from their assistance and this will no doubt have a lasting impact on my future career decisions.
"From listening to world-class economists through to meeting foreign ambassadors to China, I've been able to speak with and learn from Beijing's rich international community."
Mr Johnson said his exchange and fascination with China began when he travelled to Hong Kong as part of a UQ short-term mobility program in 2015.
"I completed a short-term international finance course at The Chinese University of Hong Kong and loved it," he said.
"From there I changed my exchange destination from the USA to China and have never looked back."
Mr Johnson has decided to spend more time in China after he graduates in June.
He intends to enrol in a one year Mandarin language program at Tsinghua University.
"Within my first two weeks in China I knew I wanted to stay longer," he said.
"I plan to travel for a couple of months in China to try and accelerate my Chinese.
"I look forward to coming home in the near future but at the moment, there's no need to rush back."
UQ students interested in New Colombo Plan opportunities can submit an expression of interest for the 2017 Scholarship Program at www.uq.edu.au/international/ncp-scholarship
Expressions of interest close Thursday, 30 June 2016.
Media: Dr Jessica Gallagher, j.gallagher@uq.edu.au, +61 7 3346 7869; Ruby Wallace, ruby.wallace@uq.edu.au