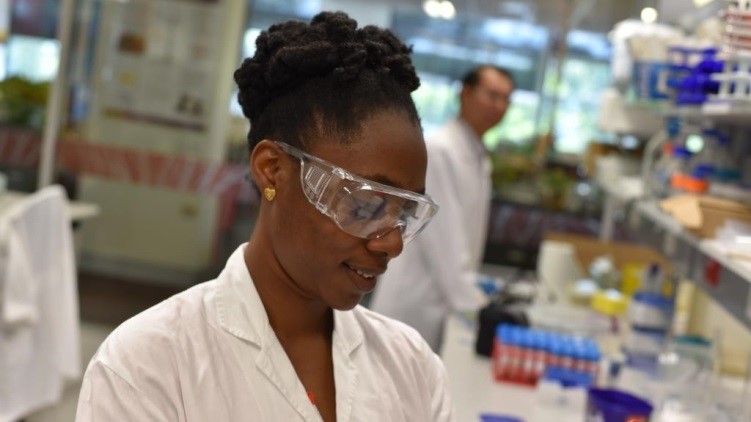 Titilayo D.O. Falade, a Nigerian student sponsored by the Australian Government's Australia Awards scholarship program for her PhD research at the University of Queensland, was recently awarded the 2016 Lynsey Welsh Award for innovation in near infrared science.
The Lynsey Welsh Award is presented in memory of the late Lynsey Welsh who made significant contribution to cereal science, near infrared science and the Australian Near Infrared Spectroscopy Group (ANISG).
Ms Falade was presented the award for her oral presentation on her PhD research using near infrared spectroscopy for modelling aflatoxin contamination in single kernels of maize.
Her advisory team is led by Dr Glen Fox at the Queensland Alliance for Agriculture and Food Innovation (QAAFI).
"I chose a career in food safety to focus on mycology challenges because food safety is critical to sustainability in agriculture," she said.
"This award has encouraged me to uphold a legacy in these important fields of research."
"Near infrared science is an excellent way to use environmentally and user friendly technology to investigate food safety concerns and unlock hidden patterns that may not be readily observed."
Ms Falade said she is grateful for award as well as the support and opportunities she has received from the Australia Awards and UQ, which have allowed her to attend global conferences and workshops related to her field.
The Agricultural Research Connections workshop jointly organised by the Bill and Melinda Gates Foundation, the first African Symposium on Mycotoxicology and the Australasian Grain Science Association conference are just a number of events Ms Falade has been able to attend.
"I have recently received a QAAFI travel grant to attend the World Mycotoxin conference in Canada, which I am excited about."
"Being able to meet and interact with world renowned scientists and seasoned researchers from around the world has enriched my life and experience as a young researcher," she said.
In the future, Ms Falade hopes to make contributions towards addressing food safety and security challenges faced in the developing world.
"Of utmost importance to me is to work with farmers in developing countries, particularly within Africa, to investigate and offer solutions to food safety and agricultural challenges," she said.
"I also hope to inspire young researchers and women around the world in agriculture and research."
Ms Falade also received one of four Student Awards to attend the conference, which can be viewed at the ANISG website. 
UQ Global Engagement manages a range of services for sponsor agencies and scholarship recipients to enable educational opportunities and build capacity worldwide. For more information about international scholarships, including partnering with UQ as a sponsoring agency, contact sponsored.students@uq.edu.au.
Media: Michael Holder, m.holder@uq.edu.au or +61 7 334 60622, or Ruby Wallace, ruby.wallace@uq.edu.au​