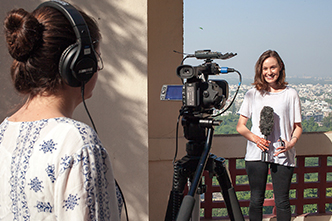 Strengthening commercial capabilities and opportunities for cutting-edge research of global significance make India a priority for UQ's aim to become Australia's most globally connected university.
Amid widespread poverty, corruption and inadequate public health, India has emerged as the seventh largest and one of the fastest-growing economies in the world.
UQ has enjoyed strong academic links with India for more than 50 years, and this bilateral relationship is an important strategic partnership for the Australian government, attracting significant national investments and initiatives.
Deputy Vice-Chancellor (International) Professor Monique Skidmore said the relationship had a strong focus on joint research.
"India's booming economy aligns with UQ's focus on collaboration through innovative business models with increasing entrepreneurship among students and researchers," Skidmore said.
"Engaging Indian industry partners will offer unique opportunities for internships, commercialisation prospects and developing strong research initiatives.
"It will also help to meet the increasing student, industry and government demand to produce graduates with global experience."
Indian student enrolments in UQ coursework and research programs have increased from 175 in 2011 to 330 in 2015. UQ has 1699 Indian alumni and 69 Indian academic staff members, including four professors and six associate professors.
The Institute of Modern Languages has taught Hindi since 1967, with growing popularity requiring an increase in teaching staff.
UQ maintains 13 formal agreements with 12 research and education partners in India and undertook six research projects involving Indian institutions between 2010 and 2015, worth more than $2.4 million.
UQ also produced 312 co-publications with Indian institutes between 2010 and December 2015.
UQ's Deputy Director of Global Engagement Dr Jessica Gallagher said the University aimed to be recognised in India as a leading global institution.
"Our goals are to attract and retain the best students, while increasing the number of Indian student commencements," she said.
"This can be achieved by enhancing the shape of UQ's Indian offerings to support broad educational opportunities, ensure flexibility in pathway programs and meet postgraduate growth targets. We are also keen to see a flow of staff and students in both directions through collaborative mobility programs.
"It's important to nurture existing key Indian universities, institutional and corporate relationships and explore opportunities to develop new collaborative academic and research projects, as well as identify and increase engagement opportunities with Indian industry through research and development."
Despite the speed of its economic growth, India is grappling to address the complex challenge of energy impoverishment. India is the world's fourth-largest primary energy consumer and, over the last 30 years, its primary energy consumption has grown by more than 400 per cent¹, with even greater growth in absolute energy consumption expected over the coming 30 years².
More than 240 million people in India lack access to electricity, and about 840 million lack access to clean fuels for cooking and heating³. The lack of reliable, affordable or accessible energy is a key challenge UQ is helping to address.
In 2013, the UQ Energy Initiative and the School of Chemical Engineering established the Energy and Poverty Research Group. The group focuses on enabling environments that can positively shape energy dynamics in impoverished communities, and incorporates many disciplines including engineering, economics and business, spatial science, communications and social change, and behavioural sciences.
Active collaborations have been formed with key universities, industry partners, and government and non-government departments within and outside India, including Washington University in St Louis, Tata Institute of Social Sciences, Foundation for Ecological Security, The Energy and Resource Institute, the Indian Institute of Technology Bombay, the National Institute of Advanced Studies, and SunEdison.
UQ Energy Initiative Director Professor Chris Grieg said partnerships across sectors and disciplinary boundaries were necessary when addressing complex global challenges.
"An all-encompassing approach incorporating these partnerships is absolutely vital if we are to establish critical research mass, create new linkages between Australian and Indian researchers and industry, and initiate building capacity in the field (or on the ground)," he said.
"Our role must be complementary and additive, not competitive with the very good work already underway in India."
¹ BP Statistical Review of World Energy 2015
² India Energy Outlook, IEA Special Report 2015
³ IEA World Energy Outlook 2014
Breaking News and Building Relationships
With its new UQ in India project, UQ's Journalism program is playing a key role in the University's global engagement strategy.
The project, which teaches students how to be foreign correspondents, is part of a scholarship program established under the federal government's New Colombo Plan, an initiative focused on improving Australia's knowledge of the Indo-Pacific and strengthening people and industry relationships through semester-based study and internships.
In UQ's inaugural 2015 intake, 20 undergraduates travelled to New Delhi to learn on the job and expand their future international job prospects and graduate opportunities.
Journalism lecturer in the School of Communication and Arts Bruce Woolley said it was almost impossible to overstate the significance of the project in terms of UQ's engagement with Indian universities and industry.
"The students in India and Australia now have close connections with citizens and friends in other countries and that leads to deeper empathy and understanding," he said.
"After one 10-day course in New Delhi, we have strengthened UQ's relationships with both Amity University and the Lady Shri Ram College at the University of Delhi, where our students were invited to take part in lectures on communication with local students."
Woolley said the intent was for students to work under real-time pressures to create multimedia stories for dedicated websites.
"These courses are designed to be as close as possible to real-world reporting – intensive, immersive and experiential. Stories have been made available to news media around the world and that offer has been widely exploited," he said.
"I was a foreign correspondent for the Australian Broadcasting Corporation based in London between 1984 and 1987 and, in many ways, it was the highlight of my reporting career.
"I find it heartening to see how many of these students have now chosen to work overseas as reporters after graduation. I can only think their confidence levels have been boosted by these courses."
The project has received funding for another three years and will support a further 60 journalism students.
For more information about the UQ in India project and to view stories, visit uqinindia.wordpress.com.
Taking Up the Fight for Women's Justice.
India is a popular tourist destination, renowned for its cultural diversity, contrasting landscapes and fast-paced cities. But exchange student Zoe Brereton says most travellers passing through New Delhi vow never to come back.
"At first glance, it's dirty, noisy and packed with con artists," she said.
"When I first arrived I was taken aback by the masses of people on the streets – bicycle rickshaws towering with baskets, female construction workers in colourful saris, and young children playing in piles of rubble next to businessmen with private chauffeurs and Apple watches.
"The contrast of life continues to overwhelm me but I have come to love New Delhi. I know how to spot a scam, how to bargain in Hindi and where, in the centre of town, I can find peaceful, ancient ruins surrounded by greenery."
The third-year Bachelor of Arts/Laws student has been living in New Delhi since July 2015 after being selected as Australia's 2015 New Colombo Plan Fellow for India, a federal government initiative that provides opportunities for undergraduates to experience semester-based exchanges and internships in selected Indo-Pacific locations.
She received the scholarship to study languages, politics and human rights at the Jawaharlal Nehru University (JNU) and is undertaking legal research on the investigation into violence against women in India.
Brereton said she chose to study law at university so that in the future she would not feel helpless against human rights violations.
"After a few conversations with university students and professors in Delhi, I was immediately confronted by the prevailing discourse that few people seem to be questioning: the idea that women who report abuse cannot be trusted and laws enacted to protect women are widely misused," she said.
"Internationally, viewing women who report rape as false complainants has been a myth with harmful consequences for women's ability to access justice."
Brereton said studying at JNU had been a completely different experience to her studies at UQ.
"It's the best place for me to discuss my research as women's rights and sexuality are popular topics of discussion, both in the classroom and in social settings," she said.
"I have been so fortunate to have spent time interacting with female judges, lawyers, activists and police officers, who are all fighting hard to be successful women in professions dominated by men."
Brereton co-presented a paper with a senior lecturer from the Police Academy in Hyderabad at the International Women in Law Enforcement Conference in October 2015 and recently submitted a research paper for peer review to be published in an international journal.
She has also received a six-month research-based internship with the OP Global Jindal University, while the Central Bureau of Investigation and the Delhi Judicial Academy have both expressed an interest in sharing her research.
Brereton said she would be returning to UQ in July 2016 and was interested in researching several topics related to crimes against women, particularly police practice in managing vulnerable people, as well as investigating institutional offending.
"The focus of my research internship will be to look at the 'rape by fraud' doctrine internationally and its development in India," she said.
"As part of that investigation, I'll be looking into the potential role of Alternative Dispute Resolution (ADR) as well as the role that deferred prosecution may play in assisting a woman's access to justice."
Download the Contact app to watch a video about Zoe Brereton's experience.
This story originally appeared in the Winter 2016 edition of Contact Magazine.