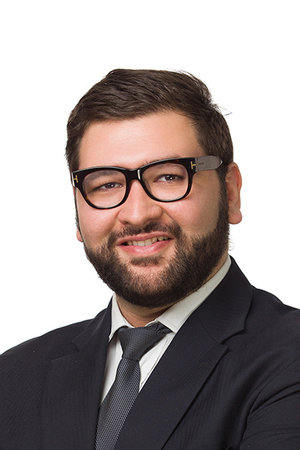 Corporate law associate and University of Queensland (UQ) Fellow Karim Issa has spent the weekend in Hong Kong SAR to promote political, economic, and cultural relations.
The Bachelor of Laws (Hons) and Bachelor of Arts (extended major in Chinese) graduate was selected as UQ's delegate to the Australia-China Youth Dialogue (ACYD), held on 28-31 October.
ACYD is an intensive four-day cultural and intellectual exchange between China's best and brightest, and their Australian counterparts – all aged between 25 and 40. The 30-strong 2016 delegation included Australians from all disciplines, from Rugby Union through to ophthalmic surgery. Now in its seventh iteration, the event has created a pan-Asian cohort of engaged, entrepreneurial leaders – a group Mr Issa is well placed to join.
Currently an Associate at Paul, Weiss, Rifkind, Wharton & Garrison LLP's Beijing office, Mr Issa has broad experience representing companies in cross-border mergers and acquisitions and private equity transactions in Australia and throughout Asia, having worked in international top-tier law firms in Brisbane, Tokyo, Hong Kong, and Beijing.
Mr Issa, who speaks English, Mandarin, Cantonese, French, and Japanese, said the opportunity to discuss the role of government, culture, and Chinese-Australian business relations was eye opening.
"In looking at the 30 delegates for this year, it is clear to see we all come from diverse backgrounds – both culturally and professionally – and we all have a unique Australia-China story," he said.
"With meaningful friendships come strong foundations, and it was invaluable to listen to and learn from those who are paving the way for us in this space."
He added the Dialogue provides a unique opportunity to gain a deeper understanding of the complex and, at times, challenging Australia-China relationship.
"With the regional – and indeed global – economic and geopolitical climate in a constant state of flux, it is more important than ever before for Australians and Chinese to connect and engage in meaningful ways on important bilateral issues," he said.
"This is the backdrop against which this year's Dialogue was set, and I'm confident the relationships we made will lead to significant benefits for the stability and prosperity of both countries."
UQ Global Engagement Deputy Director and Head Dr Jessica Gallagher agreed that initiatives that support continued cultural understanding between the two countries are vital.
"Australia is an integral part of Asia's growing economic and political potential. Over the next 20 years, Asia will cement itself as an economic powerhouse, and there are huge, mutually beneficial opportunities for our countries if we continue to grow together and collaborate," Dr Gallagher said.
UQ has proudly sponsored the high-level forum for the past three years. Speakers at the 2016 event included ANZ Hong Kong CEO Ivy Au Yeung, transgender rights advocate Kasper Wan, Macquarie Capital Executive Chairman John Walker AM, and Deputy Consul-General for Australia in Hong Kong SAR Janaline Oh.
Media: Irini Cavalliotis, i.cavalliotis@uq.edu.au +61 73346 0617