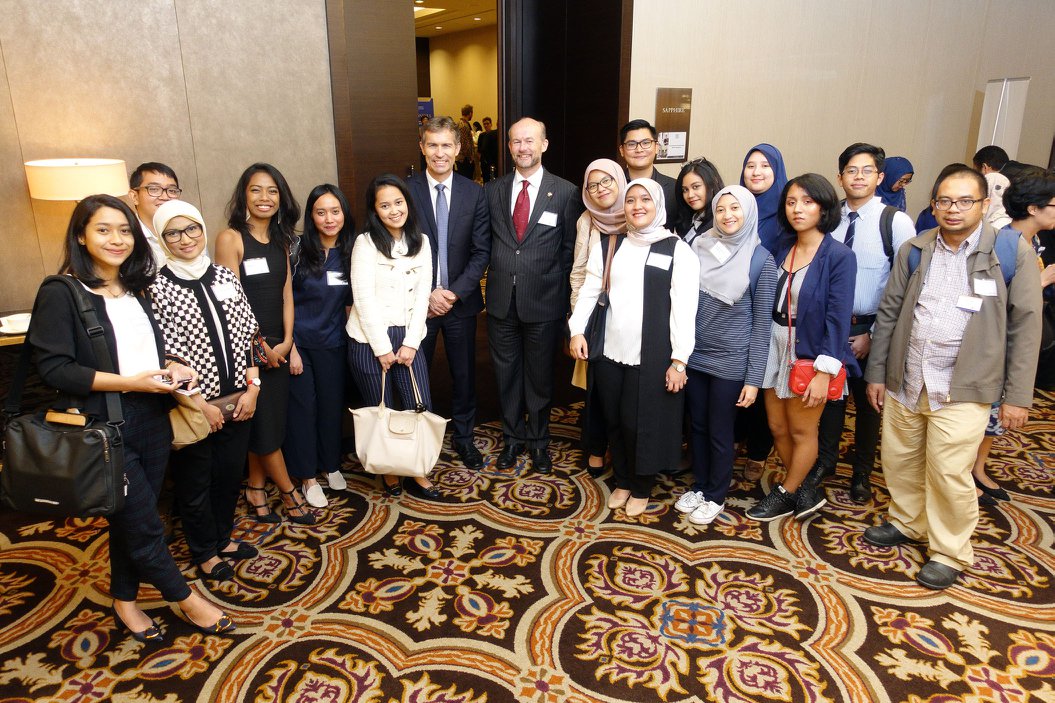 University of Queensland Vice-Chancellor and President Professor Peter Høj led a senior executive mission to Singapore and Indonesia from 25-29 March 2018.
The busy schedule included meetings with key partners, Not if, when Campaign Receptions and alumni events, a Joint Research Forum with the University of Indonesia and a UQ International Development Showcase.
UQ is home to one of the leading university development groups in the Asia-Pacific region, which provides development expertise and program management leadership to help build the capacity of people and organisations around the world to achieve their development goals.
UQ International Development capacity building programs in Indonesia strengthen bilateral cooperation in priority sectors, enhance people-to-people linkages and have real policy impact for course participants and beneficiary agencies.
As an example, the group was recently contracted by UN Women to develop a training package on gender and preventing violent extremism (PVE) with civil society organisations Asian Muslim Action Network Indonesia and Bangladesh Nari Progati Sangha.
These impacts were highlighted through the Showcase event, which brought together alumni from Australia Awards in Indonesia programs, private sector representatives, and representatives from the governments of Indonesia, Australia and Queensland.
The event drew on the extensive experience of speakers from UQ's TC Beirne School of Law, the Australian Embassy in Jakarta, the Indonesian Corruption Eradication Commission and Indonesian Ministry of Finance.
During the mission, delegates also attended Asia-Pacific Association for International Education (APAIE) Conference in Singapore and participated in a Joint Research Forum at the University of Indonesia, where participants discussed how our universities can work together in law, politics and psychology, science, and biochemistry and engineering.

Other strategic partner visits included Nanyang Technological University (NTU), the National University of Singapore (NUS), Indonesian Institute of Sciences (LIPI) and the University of Indonesia (UI), along with a UQ Indonesia Partners Breakfast.
The Breakfast was attended by 60 university and government stakeholders and provided an opportunity to recognise the importance of partnership activities and emphasise UQ's ongoing commitment to collaboration.
UQ looks forward to strengthening our longstanding partnerships in Singpaore and Indonesia and anticipates new and rewarding collaboration in the future.
Find out more about UQ in Singapore
Find out more about UQ in Indonesia