MD-PhD candidate, Cody Frear, won the University of Queensland Three Minute Thesis Competition in September this year, and then went on to represent UQ at the Universitas 21 (U21) Three Minute Thesis Competition finals in October – and won – again!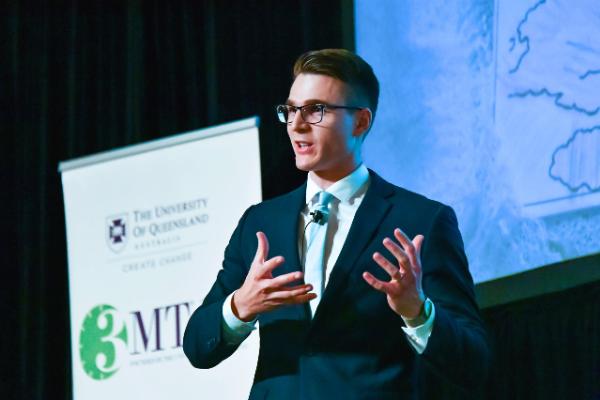 Cody beat 18 others to win the prestigious competition by using the Teletubbies vacuum cleaner, Noo-Noo, to convey a new medical treatment in less than three minutes: 'Negative Pressure Wound Therapy in Paediatric Burns: No-No or Noo-Noo?'
Cody works at the Centre for Children's Burns and Trauma Research, supervised by Faculty of Medicine clinicians. 
The treatment he studied, negative pressure wound therapy, works by applying a vacuum to the area of a burn. This is believed to improve healing by removing rogue immune cells, decreasing swelling, and stimulating the growth of new skin cells and blood vessels. The technique has been used successfully in the treatment of diabetic ulcers and other chronic wounds, but there is not much research into its effectiveness in paediatric burns.
"I'm thrilled to have won," said Cody.
"U21 is so highly respected and the other competitors were all top-notch.
"Winning has generated an incredible amount of interest in this research – far more than I could have hoped for through traditional publications and conference presentations.
"It has also helped open up opportunities for collaborations with other early-career researchers I met through the three-minute thesis."
In Cody's PhD thesis he tracked over 100 children throughout their recovery. Those with negative pressure did better and were 83 per cent less likely to require long term management if given negative pressure within 48hours of their injury. Children healed an average of three days faster.
However, there are some challenges with the technology. For one, the 'vacuum' device can be very big and heavy for young children.
The vacuum is like a scuba diver's mask – you need a complete seal for it to work. Clinicians used special adhesive film and tubing to create the seal. Once attached, the vacuum draws off fluid and dead skin cells into a storage device, placed in a backpack to allow the children to move around or go to the loo.
More than 1200 children in Queensland sustain serious burns each year. Cody's work into improving wound recovery could reduce the chances of some of these children requiring painful and ongoing surgical operations throughout their growing years as well as minimise disfigurement.
Cody came to UQ from the United States as an undergraduate and met his future wife Louise, a lawyer. Thanks to his love of Australia and his wife, he chose to pursue his medical studies as a postgrad at UQ. He plans to complete his training in Australia in the hopes of becoming one of our future clinician-scientists.
Medical takeaway
In addition to his work on negative pressure, Cody has studied first-aid therapies for burns.
You get burnt. What do you do?  
"Within three hours of injury, running the burn under cool water for 20 minutes doesn't just alleviate pain," said Cody.
"Our research suggests it might curb burn severity, decreasing the need for grafting."  
The study is published in US journal Annals of Emergency Medicine, 29 August 2019.
Media: Dr Jessica Gallagher, UQ Global Engagement and Entrepreneurship Director, j.gallagher@uq.edu.au, +61 435 961 173; Cody Frear, cody.frear@uqconnect.edu.au, +61 405 353 151.