Spiders are nature's master chemists. Their venoms have evolved over millions of years to become fast acting and potent – all the qualities you want in an effective medicine.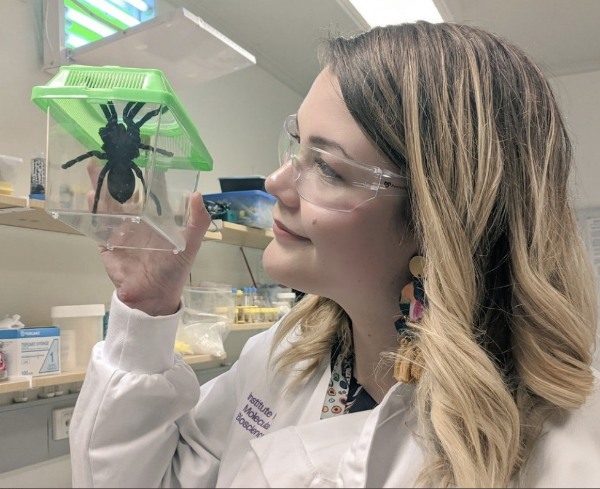 University of Queensland PhD Candidate, Samantha Nixon, from the Institute for Molecular Bioscience (IMB) has found a molecule from a Queensland funnel-web spider that can kill the blood sucking sheep worms decimating Australia's sheep stocks. 
She is now applying her discoveries from sheep parasites to human parasites.
Each year, under the patronage of Minister Anja Karliczek, Germany honours the world's emerging scientists and innovators striving to live and work more sustainably at the Green Talents – International Forum for High Potentials in Sustainable Development.
And, Samantha is one of them!
The German Federal Ministry of Education and Research (BMBF) has chosen Samantha as a 2020 Green Talent Fellow; one of 25 selected out of 589 applicants from 87 countries.
The World Health Organization (WHO) Sustainable Development Agenda set the goal 3.3 of the elimination of neglected tropical diseases. Despite global interventions, over 1.5 billion people remain infected with parasitic worms.
Samantha says that one in four people get infected by this worm, predominately women and girls.
"Women and girls are disproportionately affected by neglected tropical diseases and this is really exacerbated by a lack of access to medical care," Samantha said.
"Parasitic worm infections in children really impact growth, health and nutrition, affecting their education.
"Women are often exposed to parasitic infections maintaining livestock and performing domestic duties, like washing clothes in bodies of water. And these parasitic worms affect other infectious diseases as well such as female genital schistosomiasis actually triples the risk of HIV infection.
"So far there is a lack of effective drugs, and worryingly there are reports of drug resistance and treatment failures.
"While the main focus has been on human elimination, veterinary parasites are also a serious threat to sustainable global development affecting food security and there's potential for animal-human diseases as well.
"Multidrug resistance is now widespread in livestock production."
Samantha's research uses venoms as a source of natural products for anti-parasitic drug discovery.
The Green Talent Award has already enabled Samantha to participate in a virtual Science Forum on the United Nations Sustainable Development Goals, creating connections between Australian and German science for working on neglected tropical diseases. In 2021, she will travel to Germany with a funded research stay visiting the top German Institutes for Infectious Disease Research to further develop new medicines against parasites.
Samantha has been recognised for her work with many awards and grants from 2019 National Geographic Women of Impact Earth Day Ambassador; being a 2017 Westpac Future Leaders Scholar; sailing to Antarctica with Homeward Bound: a global leadership initiative for women; to winning the 2020 Queensland Women in STEM prize for using spider venoms to make next-generation antiparasitic drugs.
And, as a Green Talent Fellow and champion of science for all, she volunteers her time working with Queensland school children and presents on children's TV, such as Channel 10's Scope and Totally Wild, to inspire the next generation of scientists.
Follow @SamNScience on Twitter 
---
Find out how our UQ researchers are finding treasure troves in the world's deadliest creatures to save lives.