Building on joint research excellence in science and engineering, the advanced flagship partnership between The University of Queensland (UQ) and the Technical University of Munich (TUM) will deliver innovative solutions to address global challenges and further global impact.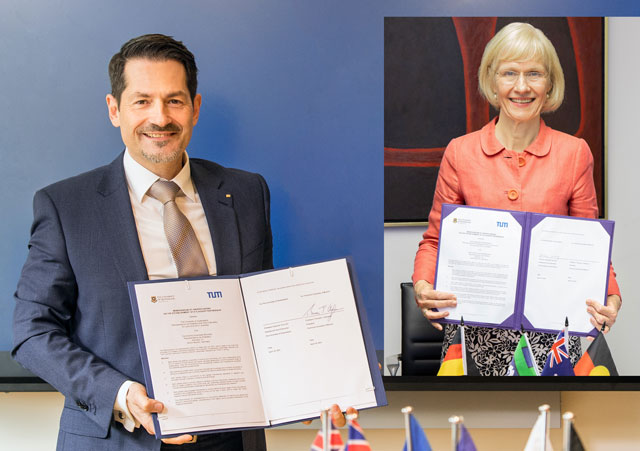 UQ President and Vice-Chancellor Professor Deborah Terry AO and TUM President Professor Thomas F. Hofmann signed the wide-reaching Memorandum of Understanding during a virtual ceremony taking place on 19 April 2021.
Professor Terry said the landmark partnership with TUM would further develop multilateral and interdisciplinary collaboration, highly achievable due to the strength of the existing partnership.
"Like UQ, TUM is a world-leading institution and is UQ's most comprehensive global partnership," Professor Terry said.
"Since our first university-level agreement was signed in 2010, collaboration between UQ and TUM has increased in depth and breadth across several discipline areas, and is supported by a suite of nine international agreements.
"We are enormously proud that engagement already encompasses a very popular student exchange, a double-degree in electrical engineering, and large-scale joint research projects."

"The flagship partnership will further contribute to global governance and public policy agendas across multiple disciplines including bioeconomy, sustainability, agriculture, food sciences, hydrogen, green energy, medicine, and health and behavioural sciences from across both institutions."
It will also foster innovation and entrepreneurial thinking to meet the future-focused needs of its students, peers, industry and government collaborators.

President Hofmann stressed: "Together, we will raise research excellence, innovative teaching concepts and practical entrepreneurship to a new level of performance with the highest international standards.
"Our aim is not only to forge even closer ties between our universities, but also to develop future-oriented fields of innovation with a broad impact.
"This includes joint research projects as well as exchange programs for students and support programs for entrepreneurs."

The high-level collaboration will also pioneer in the fields of governance, sports leadership, artificial intelligence, hypersonics, aerospace and mechanical engineering, with TUM's world-leading reputation in entrepreneurship and innovation.

A major area of mutual focus will be continuing the Global Bioeconomy Alliance, a strategic partnership comprising UQ, TUM and São Paulo State University (UNESP) in Brazil.

The alliance aims to establish a more competitive, innovative, energy-secure and sustainable world by combining agricultural, technical and social aspects of bio-based industry and society.

UQ and TUM's bioeconomy research contributes to the UN's Sustainable Development Goals, and aligns with the national priorities established by Australia and Germany, and state priorities for Queensland and Bavaria.

Both UQ and TUM are ranked in the world's top 50 universities according to QS Ranking, and are leading universities of science and technology.
Media: Dr Jessica Gallagher, pvcgee@uq.edu.au, +61 435 961 173, Ulrich Meyer, ulrich.meyer@tum.de, +49 89 289 22779.