Blog post by Muhammad Ammar Hidayatulloh
I was thrilled when I received an Australia Awards Scholarship to study at UQ. Without hesitation, I packed my bags and set off on a journey I will never forget.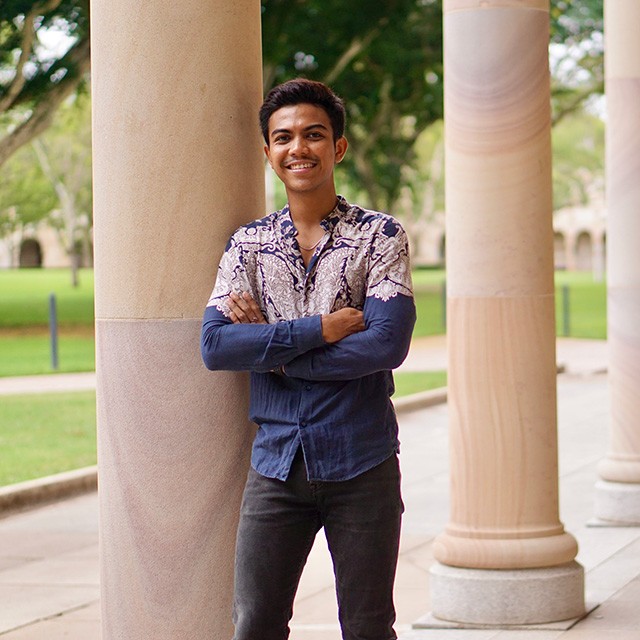 It feels like yesterday that I left Indonesia with the goal of completing a master's degree at one of Australia's best universities. On my first day in Brisbane, I visited the campus, and its beauty amazed me. My enthusiasm to study at UQ skyrocketed. 
But in my third week, the lockdown began. I had to cancel plans to spend time at the library, use my UQ Sport membership, and travel interstate. Many others and I had to dig deep and adapt as best we could.
Thankfully, though, things soon improved. The UQ staff sent me various emails to support me, and for this, I'm grateful beyond words. I also made friends with my housemates, a diverse mix from Botswana, Canada, and the Philippines. We exercised together at a park near my place and had movie nights every Friday. Determined to make the most of my time, I even decided to enter a writing competition. Who would've thought I'd win third prize!
Despite all the uncertainty, great things were happening.
And eventually, in my second semester, classes went back to campus. I couldn't contain my excitement! Walking and sometimes jogging among the jacarandas, I felt like a kid let outside for the first time. I realised my travel plans too, visiting Sydney, Melbourne, and Canberra and making new friends.
In my last semester at UQ I completed my thesis project-the most ambitious thing I have ever attempted. While I was working on it, I met Indonesian women's rights activists who inspired me to believe anything was possible. And sure enough, it was.
I have become a new person during my time in Australia. We have all experienced our struggles, but they have only served to make us stronger. We learned how to adapt and evolve in a way that we never could've imagined. So, despite the state of the world, we will survive.