A Brisbane startup company founded on University of Queensland technology to monitor the health of electricity network transformers has been acquired by French multinational Schneider Electric in a multi-million-dollar deal.
Aurtra develops remote industrial sensors to monitor ageing transformers, using patented technology designed at UQ's School of Information Technology and Electrical Engineering by Professor Tapan Saha, Dr Hui Ma, Dr Chandima Ekanayake and Dr Dan Martin.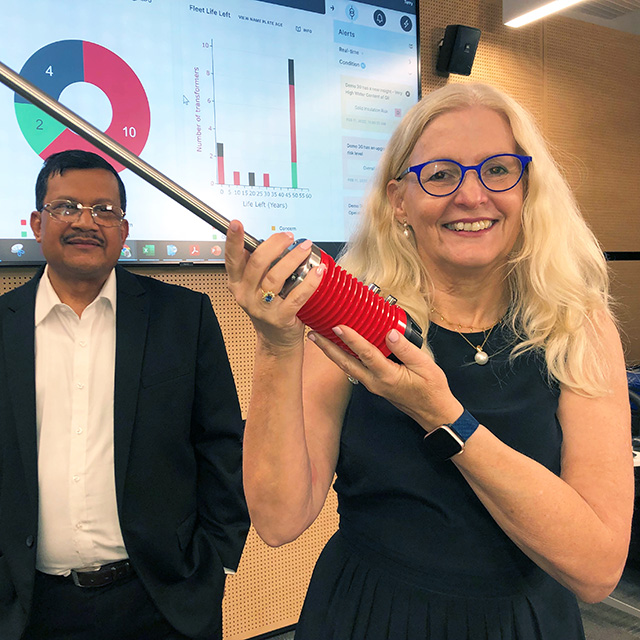 Professor Saha, who has been working for more than 25 years on transformer monitoring tools said he was thrilled by the news of the Aurtra acquisition.

"As an innovator of some of the original ideas that were licensed to Aurtra, I feel honoured to lead the team involved with the infant stages of the research that forms the pillars of the company," he said.
The sensor technology was licensed to Aurtra in 2017 by UQ commercialisation company, UniQuest.
In 2019, Aurtra raised investment capital from UniSeed, startup investors the Melbourne, Sydney and Brisbane Angels and a team of high-net-worth investors.
Dr Moss said Aurtra was one of many IT-based startups founded on licensed IP developed by UQ researchers and commercialised by UniQuest.
UQ associated startups such as Movus Fit Machine (ilab), which provides real-time machine health monitoring, or state estimation software such as GridQube (UniQuest), and machine-intelligent testing software like Turbine Machine Genes (ilab), are already emerging players in this space.
UQ's suite of entrepreneurship programs includes the Advanced Accelerator program, Ventures ilab Accelerator. 
During the three-month Ventures ilab Accelerator program, each selected startup team receives $10,000 equity-free funding to help get you market and investment-ready. You get access to Entrepreneur in Residences and have access to Ventures' mentor and investor network, workshops and co-working space. Startups from all disciplines are encouraged to apply – from social impact and fintech to mining and health.