Photo credit: Adobe Stock
Around 50 international students at The University of Queensland can now tick-off another unique cultural experience – watching England beat Nigeria in a penalty shootout at the 2023 FIFA Women's World Cup.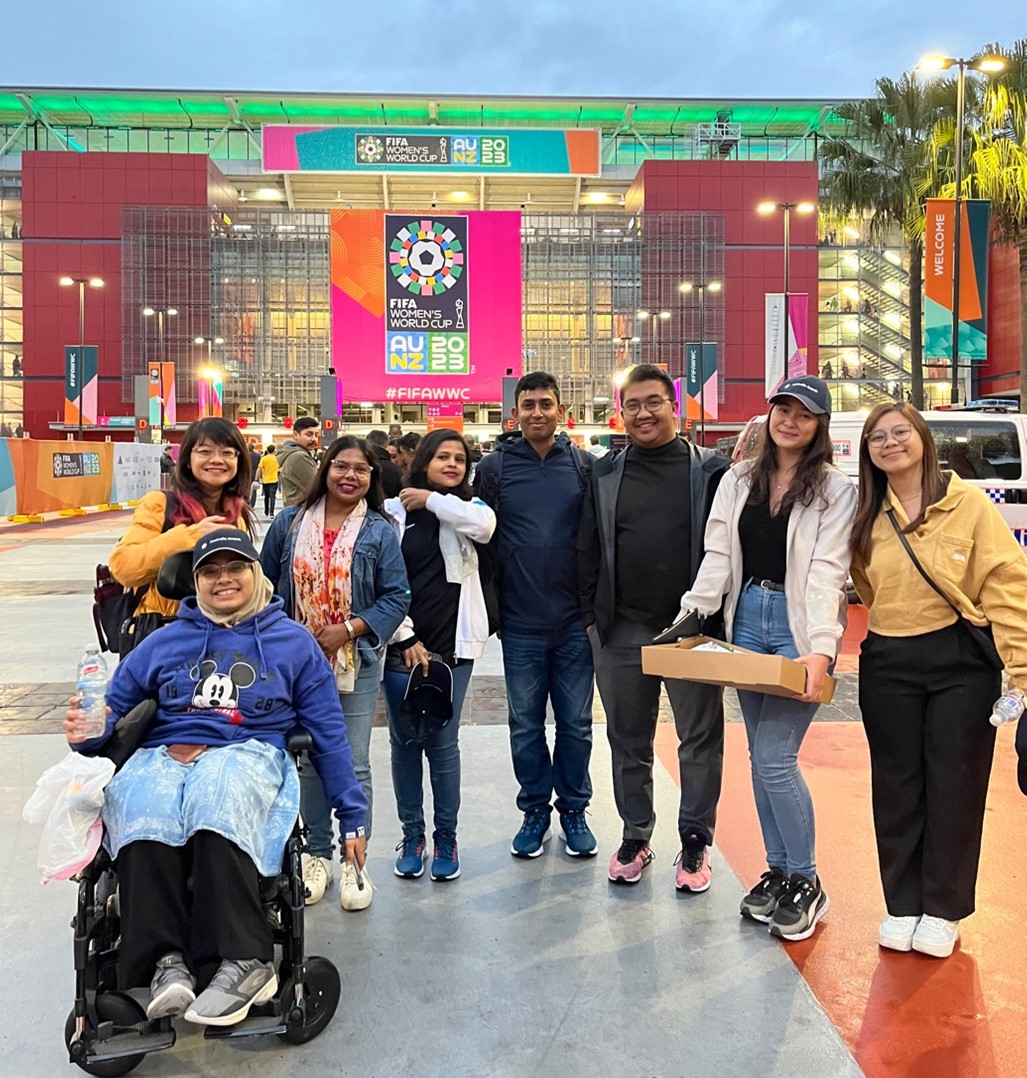 The group, which included students from the Africa diaspora, joined the crowd of almost 50,000 people at Brisbane's Suncorp Stadium. 
The Australia Awards students, sponsored by the Australian Department of Foreign Affairs and Trade (DFAT), represent over 20 countries. They are studying postgraduate and PhD programs at UQ's St Lucia and Gatton campuses in a range of disciplines, from health economics to government and public policy.
Master of Peace and Conflict Studies student, Rodolfo M. Matucan Jr., said the game was a demonstration of skill, the empowerment of women and girls, and the tenacity of the human spirit.  
"The wide green field does not only give the players a platform to unleash their strategy and strong spirits, but also sends waves of inspiration for every person across the globe who is struggling to find a space to showcase their innate skills and love for sports — or everything they set their hearts to," he said.
"These women deserve adoration for their endurance and the hard work they have poured into reaching this stage. The genuine triumph lies in the journey of reaching FIFA, not just the trophy itself."
Sabina Yesmin, a Master of Agricultural Science student, said the FIFA Women's World Cup 2023 showed the importance of team spirit.
"The Australia Awards Scholarships group arranged the event for us, which made me feel special and energised me going forwards."
Roy Joseph Roberto, a Master in Cyber Security student, said the game was a thrilling experience and his first-time watching football live with so many people.
"Apart from in-campus opportunities, I love that UQ and the Australia Awards Team are organising events like this to further enrich our student life in Australia," he said.
UQ Head of School of Human Movement and Nutrition Sciences and Professor John Cairney said sport plays an important role in breaking down cultural barriers and bringing people together.
"The power of sport can be harnessed to promote gender equality, disability, inclusion, and healthy lifestyles – and Australia and UQ in particular is a global leader in using sports to strengthen communities," Professor Cairney said. According to 2023 QS Rankings, UQ is ranked 1st in Australia and 2nd in the world in sport-related subjects.
"The eyes of the world are on Queensland in the lead-up to the 2032 Olympic and Paralympic Games – and UQ is among several Australian universities using this once-in-a-lifetime opportunity to increase awareness of the importance of sport to the United Nations' Sustainable Development Goals."
The 2023 FIFA Women's World Cup is one of several events and experiences offered to Australia Awards Scholarship students at UQ. More information about services and programs on offer for sponsored students is available online or via the Sponsored Students Unit.