The University of Queensland (UQ) and the UK Government's Science and Innovation Network (UK SIN) hosted the Digital Society virtual event on Wednesday 23 February as part of the UK/Australia Season. 
In part B of the program we invited the audience to hear from an engaging keynote speaker followed by 'Great Debate' where you will get to hear from several inspiring and high-profile speakers who will argue 'digitisation is reshaping humanity for the better'.
Keynote Speaker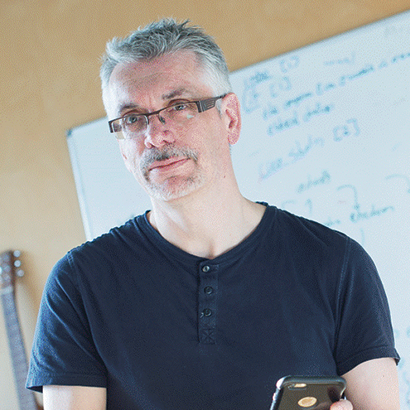 Abstract
Steve Benford gave an insight into his collaborations with artists to create, tour and study interactive artworks for over twenty five years. He drew on examples of these works to illustrate the ways in which digital technologies can deliver provocative, emotional, embodied, and sometimes uncomfortable experiences. Steve will reflect on how interactive art can serve as a mirror to our digital selves, helping us reveal, explore and interpret our thoughts and feelings.
Biography
Steve Benford is the Dunford Professor of Computer Science at the University of Nottingham where he co-founded the Mixed Reality Laboratory. He is Director of the Engineering and Physical Sciences Research Council (EPSRC)-funded Horizon Centre for Doctoral Training and also Director of the University's Smart Products beacon of research excellence. He was previously an EPSRC Dream Fellow, a Visiting Researcher at Microsoft Research Cambridge and a Visiting Professor at the BBC broadcasting company. His collaborations with artists have been recognised by the Award of the Prix Ars Electronica Golden Nica for Interactive Art, multiple British Academy of Film and Television Arts Awards (BAFTA) nominations, four Best Papers at the Association for Computing Machinery's (ACM) Computer-Human Interaction Conference, and were documented in his book Performing Mixed Reality (MIT Press). Steve is a keen guitarist and is striving to be the world's best Pops for his grandchildren (at least that what it says on his coffee mug).
Great debate
During the debate, our debaters challenged the audiences, explore futurist concepts, and promote new lines of thinking relative to the way digitisation will continue to impact society now and into the future. Wherever you are around the world, encourage your friends and family to watch this fun and inspiring event as leading experts argue 'if digitisation is reshaping humanity for the better.'
With the audience vote deciding on the winning team through 'peoples choice'.
Expand your thoughts on:
Who are we now?
Who will we be in the future? 
Is digital media fuelling friction, hatred, exhaustion?
Is digital media good or bad for our freedom of speech?
Is a future where health care is automated or delivered by robots a better one? 
Are we hurtling towards life in the 'metaverse' or are we already living in it? 
How will we socialise, engage and build relationships in a future that is bound by artificial intelligence and augmented reality?

Event contact
For more information about the event or UQ's engagement, contact
Rachael Anderson, Senior International Visits and Events Officer, Global Engagement and Entrepreneurship, UQ.