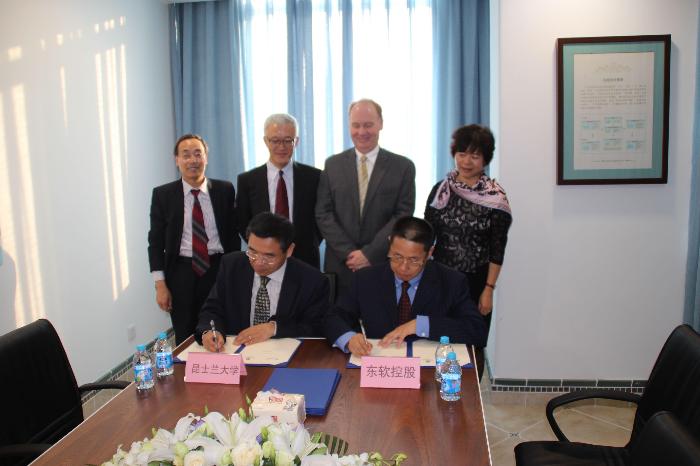 A world of opportunity has opened for UQ students and researchers with The University of Queensland (UQ) and Chinese conglomerate Dalian Neusoft Holdings Company Limited (Neusoft Holdings) signing a Memorandum of Understanding for Academic and Research Cooperation (the MOU).
UQ Provost and Senior Vice-President Professor Max Lu said education, research and commercialisation featured among the shared interests of UQ and Neusoft Holdings.
"This collaboration will give UQ students invaluable new opportunities to gain practical experience through their study," Professor Lu said.
"Neusoft Holdings is interested in commercialising UQ innovations in China, in many areas of technology including sustainable energy, water and environmental protection.  
"Discussions between Neusoft Holdings and UQ's commercialisation company UniQuest have identified a number of commercial opportunities."
Neusoft Holdings Chief Executive Officer Rong Xinjie said Neusoft Holdings aimed to take a leading role in emerging industries by investing in education, healthcare, IT services and internet-based innovation areas.
"The broad-ranging strategic partnership MOU that Neusoft Holdings has signed with UQ covers student articulation programs, student internships, research projects and other collaborative activities," Mr Rong said.
Neusoft Holdings has invested in three educational facilities in China: Dalian Neusoft University of Information, Chengdu Neusoft University and the Neusoft Institute, Guangdong.
Media: Dr Jessica Gallagher, j.gallagher@uq.edu.au, 07 3346 7869