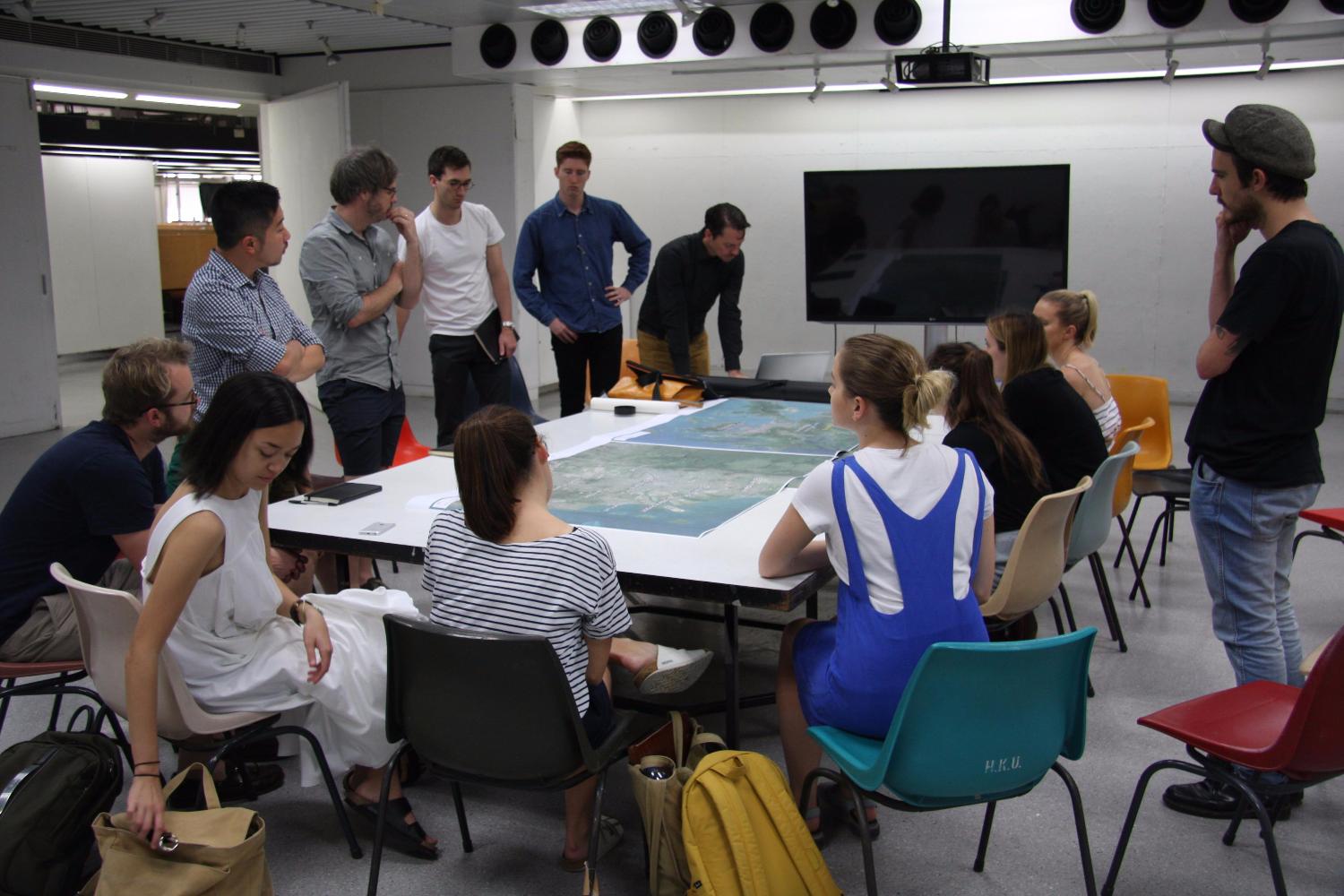 An innovative course offering has seen University of Queensland architecture students head to Hong Kong and mainland China to work alongside an internationally renowned architecture firm.
Twelve Masters of Architecture students were selected for the course, OMA Hong Kong: Urban Infrastructures, which involved nine weeks of gathering data, as well as a collaborative workshop with the local office of architecture firm OMA and the University of Hong Kong.
The students worked throughout the semester with Dr Andrew Wilson from the School of Architecture and took part in regular teleconferences with Adjunct Professor Paul Jones, Director of OMA Asia, before the two-week trip overseas.
"This project aimed to develop an ongoing trilateral collaborative relationship between the Department of Architecture at the University of Hong Kong and the Hong Kong office of internationally acclaimed architecture firm OMA," Dr Wilson said.
"The course enabled our students to build awareness of the urban phenomena of Hong Kong and mainland China and gave them the opportunity to learn of the sophisticated approaches to contemporary architectural research and practice in this region."
"The partnership aims to give students direct experience of an internationally renowned architectural firm that was established out of a commitment to the value of research to architectural practice and design and we hope to work with both partners to facilitate future internships for UQ students."
UQ student Rachael Mellick said the highlight of the international experience was working with Professor Paul Jones, an experience she credits to the help of UQ and Dr Andrew Wilson.
"Professor Jones managed to give us an extraordinary amount of his time, giving us a firsthand account of designing architecture in Asia," Ms Mellick said.
"We were lucky enough to have a tour of a monumental piece of architecture designed by OMA Asia, the Shenzhen Stock Exchange Building."
"The scale and engineering of the building was something we never imagined possible and visiting the building broadened our understanding of international architecture, in particular what architects are capable of achieving."
The course has broadened Ms Mellick's understanding of architectural design and practice and also made an impact on her academic and career aspirations.
"I'm particularly interested in heritage architecture and how architects can improve the culture and identity of a city," she said.
"The experience of collaborating with overseas partners has strengthened my awareness in this area, as it enabled me to compare attitudes towards heritage Brisbane and Hong Kong."
"I will never forget the lessons learnt from the trip to Hong Kong, and I expect the experiences we had will influence the way I practice architecture in my future career."
Dr Jessica Gallagher, Head of Global Engagement at UQ, said the university was committed to supporting students to access international study and work opportunities.
"Global mobility programs can enhance students' learning outcomes, broaden their perspective and networks, and help them develop the skills for global careers," Dr Gallagher said.
This course was supported by an Australian Government AsiaBound Grant, a scheme which has been superseded by the New Colombo Plan Mobility Program and the Endeavour Mobility Grants scheme. To learn more about partnering with UQ through global programs and internships, contact global.engagement@uq.edu.au.
Media: Dr Jessica Gallagher, j.gallagher@uq.edu.au, 07 3346 7869 or Melanie Martin,melanie.martin@uq.edu.au, 07 3346 0665