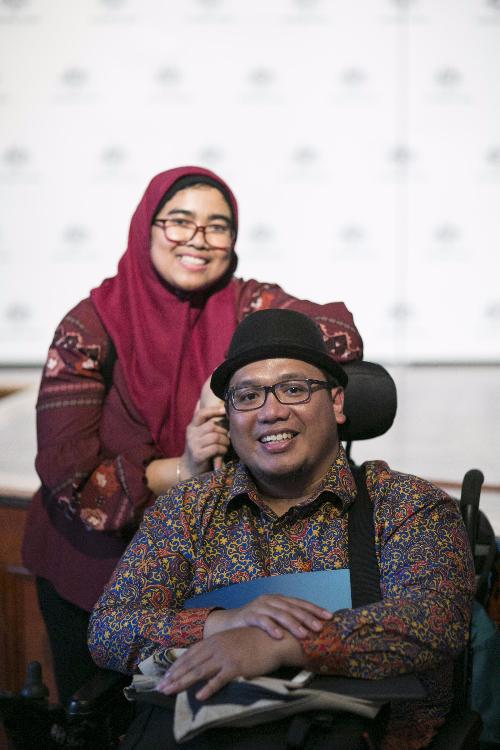 Arya Yoga Rudhita recently reached a milestone on his journey towards creating a more inclusive society for people with disabilities – he graduated from The University of Queensland with a Master of Business.
Arya, who suffered spinal cord injuries after a motorcycle accident in his home country of Indonesia, decided to apply for an Australia Awards Scholarship so he could focus on helping other people with disabilities become entrepreneurs.
"I had a dream of empowering Indonesian people with disabilities with more choices and increased independence, as many of my friends are still alone in their effort to open a business and lack mentorship and support," he said.
"I applied to UQ because it is among the world's top 50 universities, I could specialise in Entrepreneurship and Innovation as part of the Master of Business program, and there are fantastic support services and facilities."
He said a significant number of people were currently excluded from furthering economic development due to a lack of accessible infrastructure and limiting beliefs about human potential. 
"I strongly believe we can solve a lot of social problems in my country, including the poverty and sense of helplessness among people with disabilities," he said.
"People should be able to pursue their own personal development path and have their work valued equally.
"Through my journey in Australia, I have learned that poverty in any community cannot be handled from a single approach.
"The government must invest in modified infrastructure but shifts in mindset are equally critical for building an inclusive community where people are empowered to achieve together."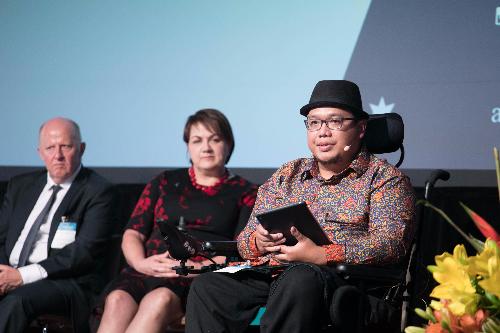 Alongside his wife, who graduated from UQ with a Master of Health Economics last year, Arya returned to Indonesia last month with treasured memories of his time in Brisbane.
"I had some of the most beautiful experiences while studying at UQ and with the citizens of Brisbane," he said.
"I was looked after by a passing driver who was concerned about my wife and me in my manual wheelchair as we were carrying heavy grocery bags down a steep hill.
"On another occasion, a sweet older woman offered me the raincoat off her back in the pouring rain.
"These experiences will always stay with me as I remember my interactions in Brisbane, and with Australians in general."
Looking forward to applying what he's learned about business and inclusive social models back home, Arya encourages others to be resilient and to make the most of life.
"I have experienced several failures in my start-ups ranging from selling motorcycle helmets and accessories, shoes, car upholstery, and opening a food court – but failing is not all bad, as long as we can measure it, and learn from it to better serve our future customers," he said.
"To future students, particularly fellow students with a disability, my advice is to seek opportunities, be persistent, embrace the study experience and the support available, and share your knowledge.
"Knowledge is powerful, and with power comes the responsibility to make a difference."
Media: Melanie Martin, melanie.martin@uq.edu.au, +61 7 3346 0665