Pacific Islanders are experiencing, firsthand, the impacts of climate change, including sea-level rises, changing temperatures and increased rainfall patterns. In response, communities in the region are leading climate adaption strategies to build the resilience of their ecosystems in the face of increasing risk.
Now, with the support of the University of Queensland (UQ), Pacific Island communities are also leading climate mitigation and adaption strategies by investigating the introduction of Low Carbon Concrete. 
Fiji currently relies on imports of clinker (sintered limestone and clay) to produce cement, which it then exports to other parts of the Pacific. The cost of this clinker is among the highest in the world – and it is inhibiting the region's development. 
Not only is the imported clinker expensive, but it is also a major cause of carbon pollution. If the cement industry were a country, it would be the third largest carbon dioxide emitter in the world. For this reason, a UQ-led project is working to reduce the carbon footprint of cement production and ensure key concrete inputs such as sand and aggregate, that are currently extracted with significant environmental damage to Fiji's waterways, are sourced sustainably. 
Low Carbon Cement for Fiji
The current project, Low Carbon Concrete Adoption in Pacific Small Island Developing States, is assessing the feasibility of implementing a new type of cement in Fiji: Limestone Calcined Clay Cement or LC3. LC3 has the potential to reduce the CO2 emissions of cement by 40 per cent. LC3 also uses local resources, reduces the costs of production, and generates a range of local employment opportunities. If successfully applied to Fiji there is the potential to reduce the annual CO2 emissions by up to 80,000 t (or ~4% of Fiji's total emissions).
The project is a collaboration between UQ's Sustainable Minerals Institute, the Australian Institute for Bioengineering and Nanotechnology, and two Indian research institutes. UQ partners, the Indian Institutes of Technology Delhi (IITD), as well as Technology and Action for Rural Advancement (TARA), have been at the forefront of efforts to develop and disseminate game changing LC3 low carbon cement technology. 
TARA has pilot projects and feasibility studies currently underway in Cuba, Malawi and other countries. Other partners in this project include the Fiji Mineral Resources Department (MRD), the Pacific Community (SPC) and the United Nations Development Programme (UNDP). The project has also attracted a PhD Candidate from the prestigious UQ and IITD's Academy of Research, UQIDAR, to work on LC3's performance.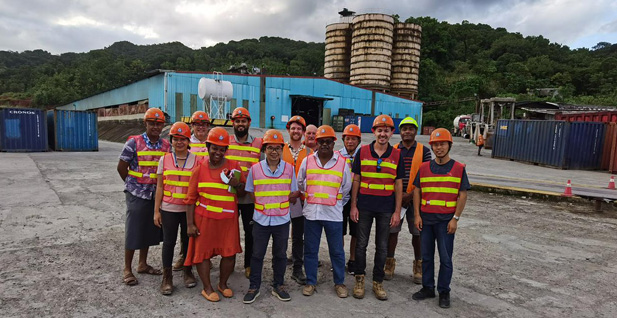 Global Partnerships' seed project has grown into a major initiative 
UQ Global Strategy and Partnerships Seed Funding scheme supported this collaborative project to strengthen partnerships in the Pacific region in 2021. This was achieved through a series of workshops that led to the development of a feasibility study action plan to be implemented as part of a larger, longer-term project.
In early May of 2022, UQ and its partners delivered a successful workshop in Fiji to confirm interest in the initiative and to develop an action plan. The workshop was opened by Fiji's Minister for Lands and Resources, Hon. Jone Usamate who told the audience that: "LC3 can assist Fiji to reduce our reliance on imported clinker, by using our local clay resources to substitute our imports and support more resilient domestic supply chains" and asked for "the further support of our development partners as we assess the feasibility of the introduction of low carbon cement to Fiji, which will also benefit our Pacific neighbours."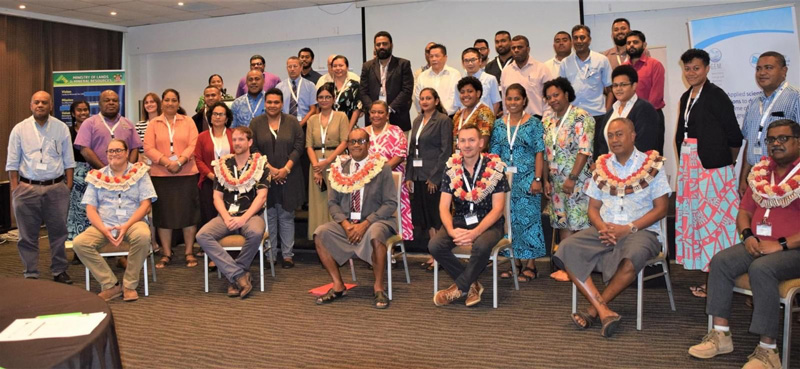 The US Embassy in Fiji recently invited the UQ-led project to submit a proposal to fund a preliminary component of the work. The team is now working with the United Nations Development Programme to mobilise resources for subsequent phases. 
 
Project lead, Professor Daniel Franks' is known internationally for his work on the interconnections between minerals, materials and sustainable development, with a particular focus on the role of minerals in poverty reduction and the social and environmental change associated with mining and energy extraction. He leads the Development Minerals Program at UQ's Sustainable Minerals Institute.
"Our project is built on the foundation of seven years of partnership in Fiji to improve the sustainability of the local minerals and materials used in local development," Professor Franks said. 
"We invite development partners interested in supporting the Pacific on this journey toward climate friendly infrastructure to invest in the feasibility study."
Nine UQ initiatives receive Global Strategy and Partnerships Seed Funding - latest round