In November, research from The University of Queensland (UQ) once again took to the world stage when Institute for Molecular Bioscience (IMB) researcher Dr Clara Jiang presented at the Falling Walls Lab as part of the Falling Walls Science Summit 2022 in Berlin. 
Dr Jiang's research examines the link between psychiatric disorders and cardiovascular diseases, how much of this can be attributed to genetics, and whether this can enable existing medications to be used for new treatments.
"There's a bidirectional link between psychiatric disorder and cardiovascular diseases, where individuals with psychiatric disorders have a higher risk of developing cardiovascular diseases, and vice versa," Dr Jiang said.
"And what we're trying to do here is understand how much genetics contributes to that link, and how much is mediated by environmental factors."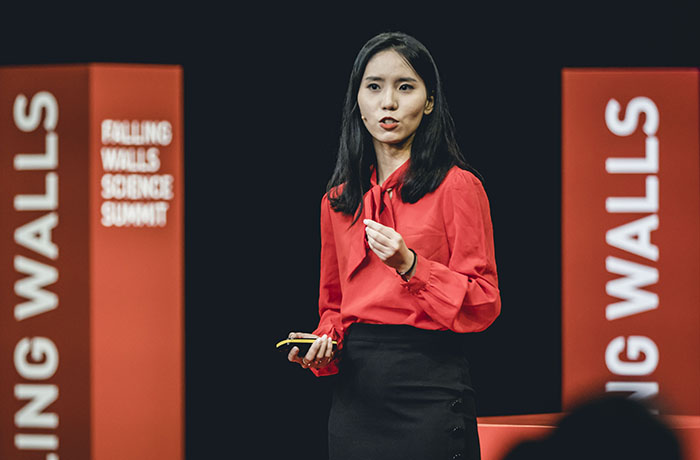 At Falling Walls, she presented her research into how genomics data can be used to explore opportunities to repurpose drugs – taking drugs that are used to treat one disease, and applying them to treat another.
This is exciting, because it saves time and money in developing treatment for diseases.
"The beauty of drug repurposing is that we no longer need to make a drug from scratch," said Dr Jiang.
"We don't need to spend billions of dollars and potentially 10 years developing a drug and improving it through clinical trials, just to find out it's not safe or fails to demonstrate efficacy. 
"Instead, we can take an existing drug that's been on the market for years and has an established safety profile, and explore whether it can be used to treat another disease."
Dr Jiang, together with her supervisor Dr Sonia Shah, is exploring how cardiovascular drugs such as statins can potentially be used to treat depression.
Dr Jiang said there have been small-scale clinical trials and observational studies looking at these opportunities, but they are prone to various biases, and the small sample size means they have limited statistical power.
"By using the genomics data from hundreds of thousands of individuals, we apply a statistical genomics method that mimics a clinical trial, where instead of exposing people to the actual drug, we can use their genetic data to identify individuals who have a similar biology or physiology to those who have been taking the drugs for a long time," Dr Jiang said.
"And that way, we can see whether we can see a correlation between the genetically proxy treatment and the disease outcome."
Dr Jiang said winning second place at Falling Walls Lab Australia, and then going on to present at Falling Walls Lab in Berlin, was both inspiring and empowering.
"It is an indication that the scientific community believes this is an area that is worth further exploration, and that they are interested in the research that Dr Shah and I are doing."
Dr Jiang said she also enjoyed listening to presentations from other Falling Walls Lab winners from around the world, covering topics from a broad range of fields – not just life sciences, but also physics, chemistry, environmental science and more.
"It's really exciting to see that in a world where we are faced with so many issues, there are all these young people trying to address these issues with their innovative thinking, and the amazing ideas that they're coming up with."
The Falling Walls Science Summit is supported by UQ, with Global Partnerships and the Liveris Academy proud to sponsor the event. 
Professor Peta Ashworth, Director of the Liveris Academy and Chair in Sustainable Energy Futures, also participated in the Falling Walls Circle round table discussion on sustainability and healthcare.
To find out more about working with partners from Germany and other international organisations to develop your research and reach a global audience, contact Tamara Weissflog, Manager, Strategy and Partnerships.