Research co-led by The University of Queensland has found sharing real-time air quality readings in developing countries can reduce air pollution and lead to lower mortality rates.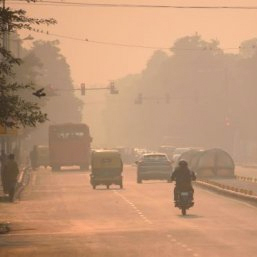 Dr Andrea La Nauze from UQ's School of Economics said the project, in conjunction with Carnegie Mellon University in the United States, was sparked by live air quality updates being posted to Twitter.
"In 2008, the US Embassy in Beijing began tweeting hourly air quality information from a new pollution monitor, which dramatically increased attention on air pollution in China," Dr La Nauze said.
"US embassies now tweet live air quality readings in 38 non-OECD countries worldwide.
"We looked at 36 of those countries and found the sharing of real-time data increased local public interest in air quality and led to reduced air pollution levels."
The researchers used air pollution measurements taken from satellite data to evaluate levels before and after the US embassy in a city began tweeting air quality readings, and compared the results with other non-OECD cities without embassy monitors.