Chancellor of The University of Queensland (UQ), Mr Peter Varghese AO, visited Hanoi to participate in celebrations to mark 50 years of diplomatic relations and to strengthen UQ's institutional ties with Vietnam.
On Saturday 3 June, Mr Varghese attended a reception with the Prime Minister, The Hon Anthony Albanese MP, as well as Australian Ambassador to Vietnam Andrew Goledzinowski and key figures in the Australia Vietnam business relationship.
The leaders discussed expanding bilateral cooperation across a range of sectors, with an emphasis on trade, education, cultural, and tourism ties.
The group also welcomed growth in air links between the two countries – including the addition of new direct flights from Vietnam to Brisbane – as well as Australia's new $105 million commitment to help Vietnam transition to a clean energy future.
While in Hanoi, Mr Varghese presented a public lecture on Australia's regional outlook, hosted by Hanoi University (HANU).
He said more than 500 Vietnamese students had enrolled at UQ in the past five years and most had returned home to live and work in Vietnam.
"These students come to UQ to study in areas such as engineering, IT, business, economics, law, medicine, and importantly, international relations and development programs. UQ has also been at the forefront of research training of Vietnam's academic leaders, with PhD graduates representing the largest cohort of our Vietnamese alumni," Mr Varghese said.
"Their formative experiences of studying in Australia will undoubtedly deepen the people-to-people links between our two nations – and create fertile ground for the further development of future economic, cultural and trade exchanges."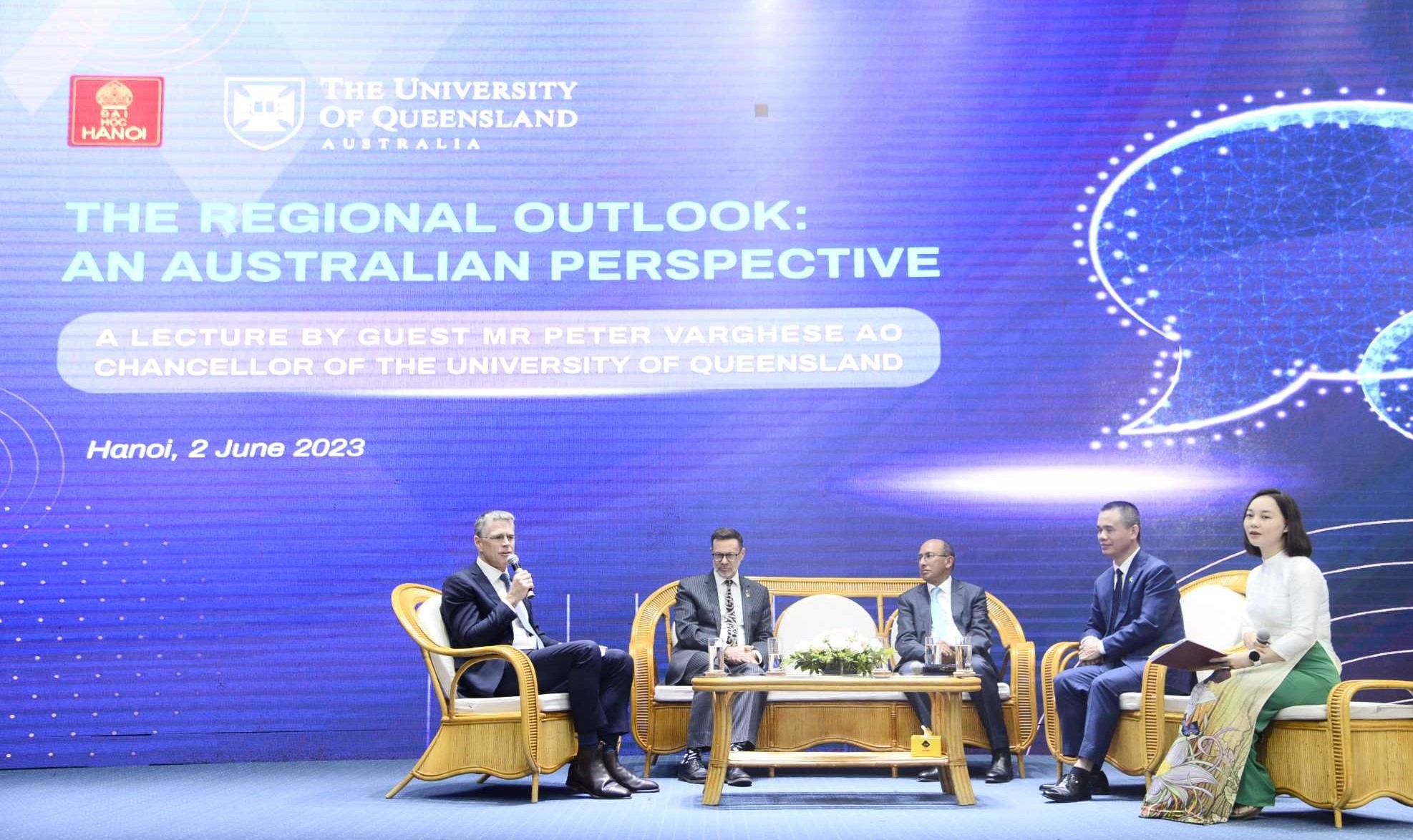 Mr Varghese said Australia and Vietnam shared similar priorities and UQ was well-positioned to back the Australian Government's commitment to support sustainable infrastructure planning and clean energy technologies, as well as deliver technical assistance to develop Vietnam's critical mineral sector.
"As Chancellor, I have the privilege of seeing the deepening research partnerships that the University has with a number of Vietnamese institutions," he said.
"These collaborative research projects are focused on sharing knowledge across a range of important areas – from adopting more sustainable approaches to mining, to improving the capacity of the health system, or cultivating the local innovation ecosystem.
"A good example is the project that the Queensland Alliance for Agriculture and Food Innovation (QAAFI) is leading with a global research team that's focused on improving the economic, social, and environmental outcomes of smallholder rice farmers in the Mekong Delta."
Following the public lecture, Mr Varghese joined a panel discussion with Ambassador Goledzinowski, HANU President Associate Professor Trao Nguyen, and UQ Pro-Vice-Chancellor (Global Partnerships) Brett Lovegrove.
As part of the visit, UQ signed a new institutional agreement with HANU to strengthen and expand ties in the humanities and social sciences, including research projects and co-publications in the areas of education, and languages and cultures.
Mr Varghese also met with Consul General Ho Chi Minh City, Sarah Hooper, and leaders from the Ho Chi Minh Academy of Politics to leverage UQ's expertise and explore new ways to collaborate.
While in Vietnam, Pro-Vice-Chancellor Lovegrove also met with additional embassy staff and Vietnamese partners, including the Ministry of Education and Training (MOET), the University of Da Nang, the University of Economics Da Nang, Vietnam National University Ho Chi Minh City, and Hoa Sen University.
---
UQ and Vietnam share a strong vision for economic and community development, with research collaborations across agriculture and food science, environmental science, digital transformation, tourism and public health.