Queensland will become a major international hub for vaccine discovery and development with a global partnership formed in the United States today to help address the world's critical health challenges.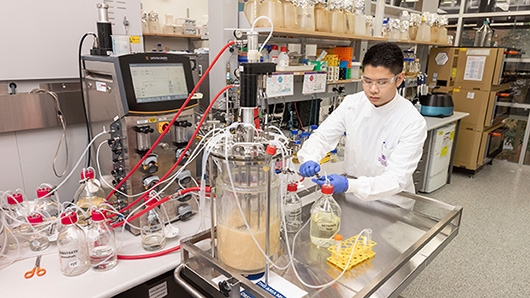 Speaking in Boston during an international biotech conference, Vice-Chancellor Professor Deborah Terry said The University of Queensland and Emory University in Atlanta have committed to scaling up their collaboration to focus on pandemic preparedness and regional disease prevention.
Professor Terry said the Brisbane-Atlanta partnership would bring together world-class researchers to accelerate the development of vaccines to help deliver commercial and public health outcomes.
"The focus will be on rapid progression to clinical trial of a scaled-up number of vaccine candidates for the treatment of Asia-Pacific region viruses and infectious diseases, along with pandemic preparedness," Professor Terry said.
"This partnership will make Brisbane a centre for the Asia Pacific region and significant player of the burgeoning global biomedical industry.
"Biotech companies from around the world will be able to come to Brisbane to take advantage of the facilities already established and work with the 300-plus researchers associated with the Emory and UQ partnership."   
The partnership builds on more than a decade of collaboration in drug discovery between Emory University, UQ and QIMR Berghofer through the Queensland Emory Development Alliance, which was renewed today in Boston for a further 10 years.
Last year, global vaccine manufacturer Sanofi and the Queensland Government signed an agreement for the establishment of a Brisbane-based $280 million Translational Science Hub, with UQ and Griffith University as foundational partners.