Collaboration in action
Global search for new antibiotics
In an Australian-first, UQ will join with the Global Antibiotic Research and Development Partnership based in Switzerland to tackle the growing problem of drug-resistant infections. Dr Mark Blaskovich from UQ's Community for Open Antimicrobial Drug Discovery (CO-ADD) said about 700,000 people die from drug-resistant infections every year. "International initiatives such as this are essential to refuel the antibiotic pipeline, which has been neglected in recent years, placing us dangerously close to a return to the pre-antibiotic era, when even simple infections caused death," he said. UQ's CO-ADD has helped the global chemistry community identify more than 1500 potential new antibiotics since its launch in 2015.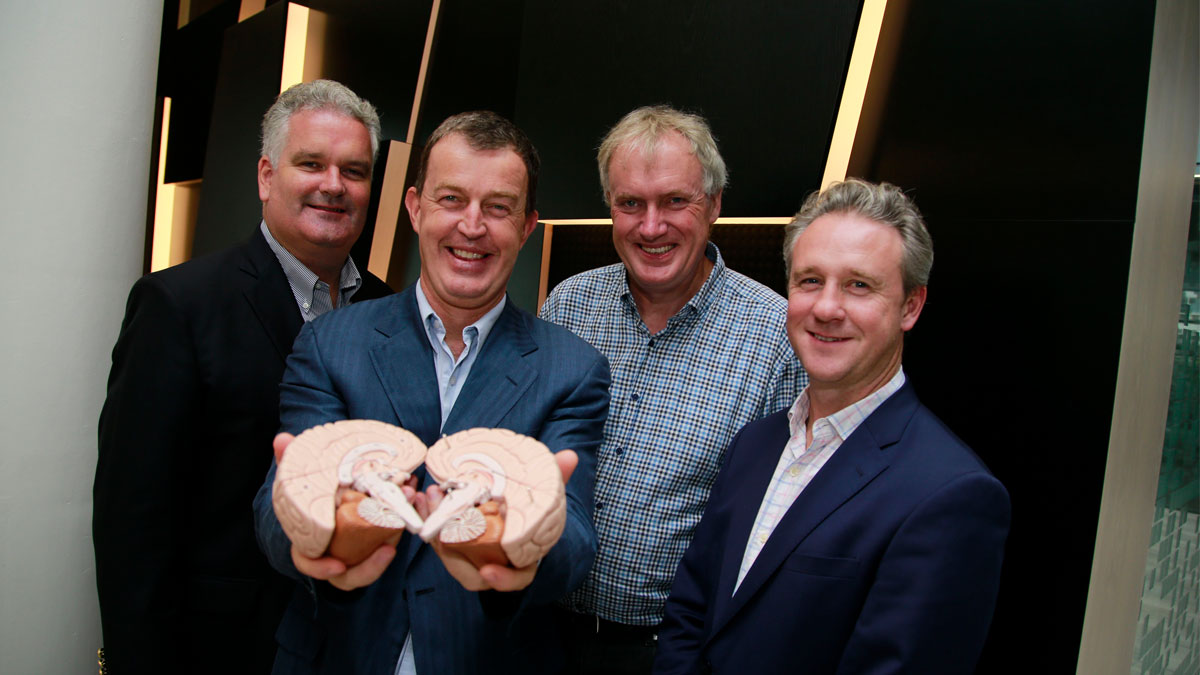 Landmark deal for UQ-Trinity inflammation startup
A startup company developing treatments for inflammatory diseases based on a research partnership between UQ and Trinity College Dublin (TCD) has been acquired in a landmark deal – one of the largest in Australian and Irish biotech history. Inflazome has been acquired by Roche for an upfront cash payment of €380 million (about $AU617 million), plus additional payments based on the achievement of certain milestones. The company was founded in 2016 following research collaboration between UQ and TCD, with UQ's technology transfer company UniQuest leading the commercialisation of the resulting intellectual property. Professor Cooper moved to Cambridge in the UK to be the CEO of Inflazome. (Photo credit: CEO Matt Cooper with Inflazome colleagues. Source: Inflazome.)
Turning 'have-nots' into 'haves'
The Federal Minister for Education Dan Tehan MP announced another seven years of funding, $32.1 million, for the ARC Centre of Excellence for Children and Families over the Life Course to help Australian families break the cycle of disadvantage and stop the gap between the 'haves' and 'have-nots' widening. UQ will collaborate with three Australian universities and 17 academic and industry partner organisations from Australia, Europe, New Zealand and USA. Together, they will provide an additional $33 million in cash and in-kind support to the Centre.
Mineral ores to sand out sustainability crisis
Researchers from the University of Queensland's Sustainable Minerals Institute (SMI) and the University of Geneva (UNIGE) are exploring ore-sand as a sustainable source of sand that could significantly reduce the volume of waste produced by mining. SMI development minerals program leader Professor Daniel Franks said his team's research presents an opportunity to address two global sustainability challenges simultaneously. "Sand is one of the world's most exploited natural resources and its extraction from rivers and nearshore environments poses a sustainability problem that will only get worse," he said.
UQ research unlocks the technology to produce unbreakable screens
Cracked phone screens could become a thing of the past thanks to breakthrough research conducted at The University of Queensland. The global team of researchers, led by UQ's Dr Jingwei Hou, Professor Lianzhou Wang and Professor Vicki Chen, have unlocked the technology to produce next-generation composite glass for lighting LEDs and smartphone, television and computer screens. This research is a collaborative effort from UQ, the University of Leeds, Université Paris-Saclay and University of Cambridge. (Image: Luminating composite glasses.)
Student mobility
Student exchange
UQ has a thriving student exchange program with partners in 18 countries across Europe. Popular European exchange destinations include the United Kingdom, Germany, France, Denmark and Sweden. 
Master of Global Management
The Master of Global Management is designed to prepare graduates for an international business career. The two-year postgraduate double degree is run in conjunction with five leading business schools in Finland, Italy, France, Norway, and Canada. Students spend the first year studying at UQ Business School, and the second year studying overseas at one of UQ's partner institutions.
Alumni
More than 6840 alumni live in Europe. Alumni from or living in the region include: