Her Excellency Dr Clemencia Forero-Ucrós
Ambassador Extraordinary and Plenipotentiary Embassy of the Republic of Colombia
Biography
Her Excellency Dr Clemencia Forero-Ucros has been Ambassador of the Republic of Colombia to Australia since February 2013. Currently, she is non-Resident Ambassador of Colombia to New Zealand (2013) and to Fiji (2016). She has a Bachelor's degree in Philosophy from Universidad los Andes and completed a Master's degree in Political Studies from the Pontificia Universidad Javeriana.

Dr Forero-Ucros has also been Ambassador of Colombia to Sweden, non-Resident Ambassador to Norway, Denmark, Finland and Iceland as well as Permanent Representative before the United Nations' office in Geneva. Her duties have also included being appointed Vice-Minister of Foreign Affairs.

Dr Forero-Ucros has also received numerous national decorations, including Orden de Boyaca as well as international awards from the governments of Chile, Peru, Mexico, Brazil, Bolovia, Venezuela. A 'Special recognition award' from the Executive office, President of the United States, Office of National Drug control policy was also received.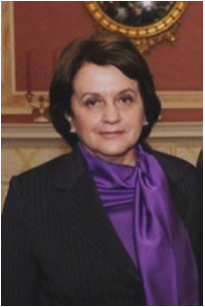 Her Excellency Dr Clemencia Forero-Ucrós